Posted by AllieB on December 8, 2010
This weather is making me cross-eyed. I walked outside this am and was greeted with such an aggressive blast of cold air that my eyes kind of glazed over and I was very disoriented – I felt a tad woozy, if you will. It was very off-putting. For some reason, this reminded me of my summer at  Camp Merri-Mac in 1996 (ish): one of my courses was swimming. It was the second or so day of camp, and this girl Fran – whom I could already tell was a real character – came thrashing over to me. Seriously, it was like she was trying to beat up the water; I've never seen anything like it.
Fran: Hi Allie!

Me: Hi Fran

Fran: I forgot my prescription goggles, Allie!

Me: Well that's not good

Fran: I know! So, hey Allie, will you tell me if my right eye wanders??
Somewhat taken aback by such a request, I dutifully checked out her peepers, and, sure enough, she was looking straight at me with the left eye and the right eye was looking pretty much due east. Uh Fran, I think we've got a problem…
Meet & Greet: Princess Woozie. She loves tutus, her mom and dad, tug of war, riding shotgun, and rocketing her incredibly long torso across the room. Casey Wa Wa is waiting with breath that is bated for the results from a DNA test, and then we will know what kind of dog she is. In the words of Sis: Merry Christmas, Wa Wa! Who's yo daddy???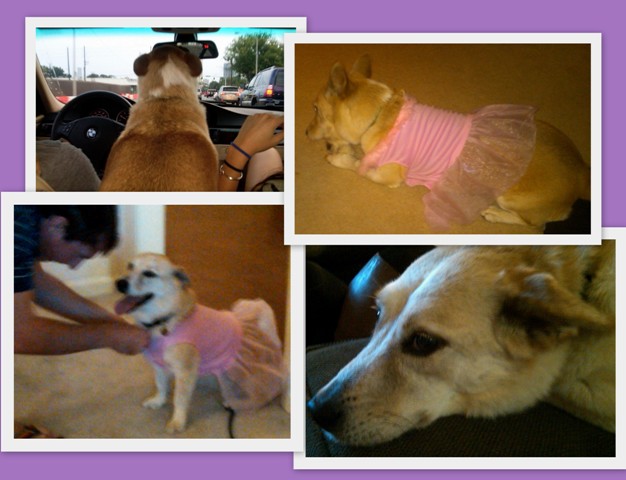 If I could be anywhere in the world right now, doing anything that I wanted, I would be on the sectional at 318 with Woozie and a glass o' red and a brand new Vanity Fair…watching episodes of Friends and SATC intermittently…and with some sort of delicious food arriving any minute…oh, and there'd be cheerful Christmas carols playing softly in the background. This was a very cruel thing to do to myself.
5 Responses to "Woozy & Woozie"