Posted by AllieB on February 1, 2011
I've always liked Hugh Jackman and now I love him. I'm also possibly reconsidering the Hollywood talk that he might be gay because this is just about the biggest straight guy move I've ever seen. See below as Hugh and his daughter, Ava, enjoy a casual play date at the playground.
Hugh: Hey, Ava! Over here!

Ava: Yeah, what's up D- BOOM.
I'm pretty pleased with celebs of the male variety, across the board: I just read in US Weekly that Justin Bieber checks into hotels using the pseudonym "Chandler Bing." I LOVE Chandler Bing! I'm even more of a Belieber than I was before – and props to him considering he was born the year the show first aired. Also, I can't wait for Chandler's (Matthew Perry) new show, premiering next Wednesday, Feb 9, Mr. Sunshine – it looks very funny.
Chandler: I'm sorry. When you were in high school you made out with a fifty year old woman?
Ross: She didn't look fifty!
Chandler: Did she look sixteen?

-The One with the Rumor
Lastly, apropos of absolutely nothing, I share with you this adorable photo of the Baxter Fam that I'm guessing is from c. 1990 based on our ages and my mom's Laura Ashley frock. Charlotte and I are in our P'tree Pres Praise Kid Choir t-shirts because we both had the dream of one day being soloists. You can imagine how that panned out (it didn't). I bet my dad would never deck any of his daughters in the face with a snowball…not intentionally.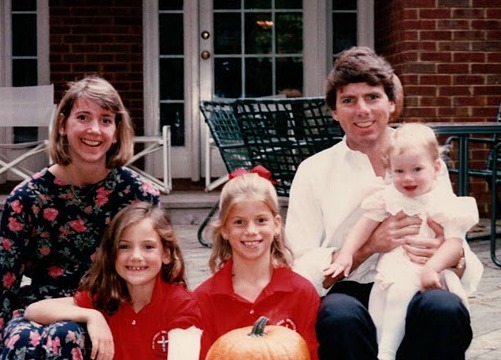 Credit: Lissa!
2 Responses to "Incoming"
February 1, 2011 at 4:10 pm

love a good afternoon dose of BBT!

February 8, 2011 at 2:07 pm

Hugh No Mercy Jackman is a parental role model based purely on this photog.