Posted by AllieB on April 18, 2012
Three posts in a row?! I'm on fiyah.
My hobbies include writing BBT, going for yogs, driving around, and reading – I really like to read. My taste tends to air on the side of trashy with a side of smut, but what're ya gonna do – it's an escape. Sorry I'm not sorry I like best sellers and chick lit and my latest find…which needs a category all of its own. A few ideas that come to mind are "inappropriate" and "you should have to show ID to purchase this book." The only reason I feel like it's okay to bring it up on BBT, whose PG-13 rating I vigilantly maintain, is because they talked about it on the Today Show and a movie – a mainstream movie – is in the works. Meet & greet: The Fifty Shades Trilogy.
This is some steamy stuff. The whole premise is this young college graduate, Anastasia, and an older (27 year-old??) man, Christian, who is very rich but also very 'damaged.' So damaged, in fact, that the only kind of relationship he knows is one of Dominance/Submission. This is also known as BDSM, about which you will learn entirely too much in the first book. He is the Dominant and he seeks out Submissives who are skinny with brown hair because they look like his 'crack whore mother.' Already I feel like I've stepped outside of my BBT boundaries…Mom, you will not like this book. I'm about to start the third and final installment, and I'm very excited. Turns out there's a whole plot that is getting pretty thrilling. Is the writing good? No…but it's not unreadable. I found Twilight to be unreadable – the thing read like a movie script. Is it a guilty pleasure? Quite. Even for me and my admittedly low-brow tastes this goes a bit far. Do I recommend it? Yes…but only if you take it for what it is.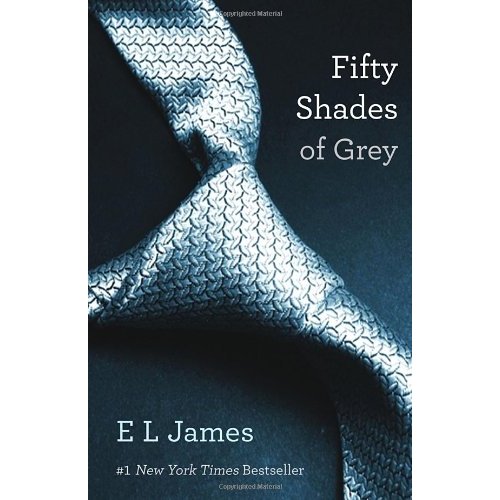 According to Amazon: Erotic, amusing, and deeply moving, the Fifty Shades Trilogy is a tale that will obsess you, possess you, and stay with you forever. Um, that might be going a bit far…I'm not a psycho, I just like the books. Whatever, go to here to purchase/find out more. Credit: Lucy. I just remembered that I have an old post entitled Bookshelf Porn after a website featuring photos of people's personal libraries…well Fifty Shades of Grey might actually be bookshelf porn.
A new show comes on after Modern Family tonight: Don't Trust the B*tch in Apartment 23. I think it looks funny for the following reasons: 1. James van der Beek is in it and he's kind of playing himself…like still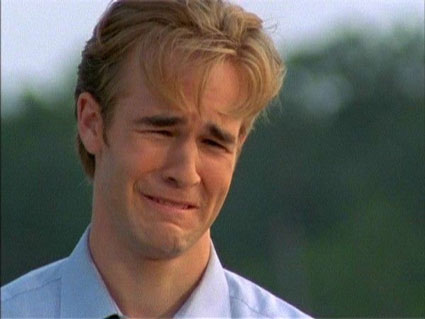 trying to flaunt his Dawson Leary days. We miss those days, too, Dawson. 2. Kristen Ritter is funny. She was one of the few highlights in 27 Dresses and I think her droll delivery is entertaining. 3. This is the description on IMDb:Â Centers on Chloe, a New York party girl with the morals of a pirate who bullies and causes trouble for her naive small town roommate June.
Sold. So, tune in, DVR, whatever…if you look at my track record, when I say it's going to be good, it's going to be good. I was right about Cougar Town, I was right about Happy Endings, I was right about Homeland, and I was right about Revenge. I'm 4 for 4 suckas.
There are many view points on quality vs quantity…as in, should I pump the brakes on writing something if I don't have a whole lot to say? (I'm referencing this post, BTW.) I think I'm still in fragile territory with my readers, so I'm going quantity > quality. Take it or leave it. And I think I might need to reassess my taste in books and television, maybe class things up a bit….
Happy Hump Day!
3 Responses to "Low-Brow > High-Brow"
April 18, 2012 at 3:41 pm

You're not alone my friend. I, too, am enjoying some "Mommy Porn"

April 18, 2012 at 3:43 pm

THAT'S what they're calling it! I was too lazy to goog much background info. Glad to know I'm not the only one indulging…

April 18, 2012 at 3:54 pm

I read the first one in one sitting…and had the trilogy finished after a weekend. Then on my flight back I didn't have anything to read so I reread the first one….I actually am a psycho.