Posted by AllieB on May 17, 2011
There's a Food Truck Extravaganza at Souper Jenny tonight. At first I kept seeing that it was Top Secret, but people have been Tweeting about it and posting it on Facebook, so I think the cat's out of the bag. Yumbii…Tex's Tacos…Souper J…it's a win/win/win.
Me, I will have: spicy pulled pork quesadilla from Yumbii, a carne asada taco from Tex's, and…yeah, that sounds good. Oh. I just saw that Souper Jenny is serving up a smoked gouda and bacon pimento cheese panini…christ on a cracker, it's BATHING SUIT SEASON PEOPLE. You are not helping.
Freaking Tuesdays.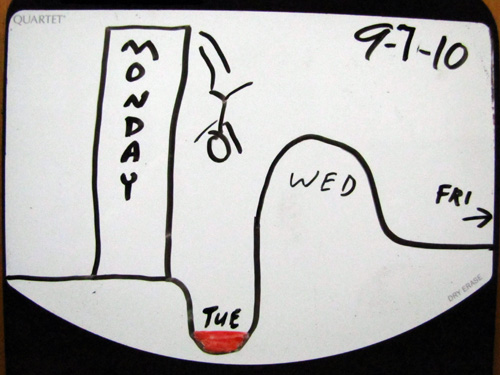 I love poetry, and a glass of scotch, and, of course, my friend Baxter here.
2 Responses to "Nom nom nom nom nom"
May 17, 2011 at 4:41 pm

Does Tuesday go lower than that? It feels like it should go lower.

May 18, 2011 at 12:54 am

OMG That is the funniest drawing….ever. I HATE Tuesdays.