Posted by AllieB on December 21, 2011
This is seriously getting pretty weird – I just keep winning things?? I'm concerned I'm going to get accustomed to this, causing my previously bottomed-out expectations to start rising – how unhealthy would that be. And Sister just reminded me of the $100 I won in Newnan last Thanksgiving…it's becoming something of a pattern, and it's not good. This time it was this beautimous pair of earrings by the very talented Mary Kelly Clary of give a penny.designs via the High Museum Wine Auction Giveaway.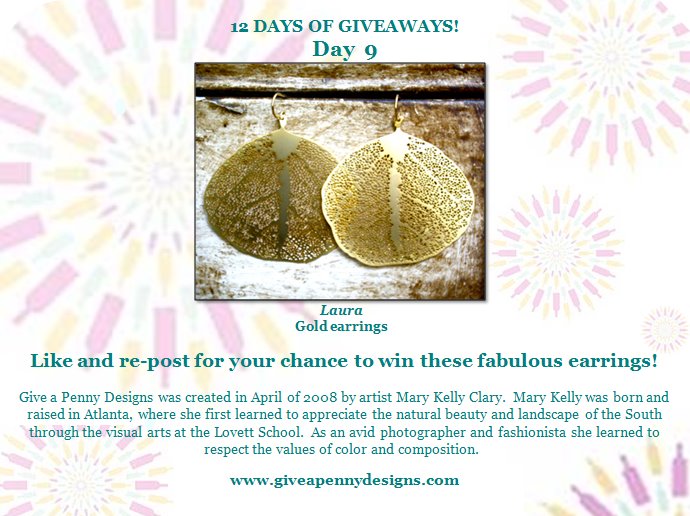 I'm thrilled – those just scream ALLIE. They're the "Gold Laura" and they are nice and big which is perfect for my opposite-of-small domepiece.
I've decided that a fun thing to do will be "A Year in a Review: Baxter Bark Twice." You know, top posts, most remarkable and/or memorable events…as well as the worst posts and the least interesting things – it's going to be a very comprehensive round-up. I'm not going to do it today because I am simply too busy, but BOLO. This epiphany of a year-end review came to me not via all of the other publications doing year-end wrap-ups, but by way of good food and friends at Mosaic. I know, I've said horrible things about Mosaic in the past (and on my spreadsheet), but on a gross Tuesday night when they have half-off wine and their sliders taste like a gift from the culinary gods, I'm okay with it. Granted, Danielle had to basically order our food directly from the chef as the servers were no where to be found, but I guess ya can't win 'em all.
Merry Christmas! Love, Le Boof, H&H Home, and BBT…
..and The Duchess. How glorious do both she and her hair look?! I can't wait to hear about what William gives her for Christmas. I'm thinking maybe a full-length chinchilla coat plus a million dollar donation to her favorite charity..? I think that sounds perfect – she's a fashion maven with excellent taste and a heart of gold.
3 Responses to "Winning > Losing"
December 21, 2011 at 3:51 pm

i hope he gives her a baby….

December 21, 2011 at 3:57 pm

Those earrings will look lovely with your navy strapless dress that hopefully you are en route to try on.

December 21, 2011 at 4:21 pm

I am accepting.