Posted by AllieB on December 16, 2011
Earlier today I received an email from my friend Allison aka Pal that included a teeny confession she'd previously neglected to share:
So like a year ago I wrote a half-serious email to Perez Hilton about Allie's blog and that he should read it and hire her. I was just bored at work. And I included a picture. And now we're on Perez Hilton.
Say what? I go to the site – one I honestly do not frequent – and sure enough: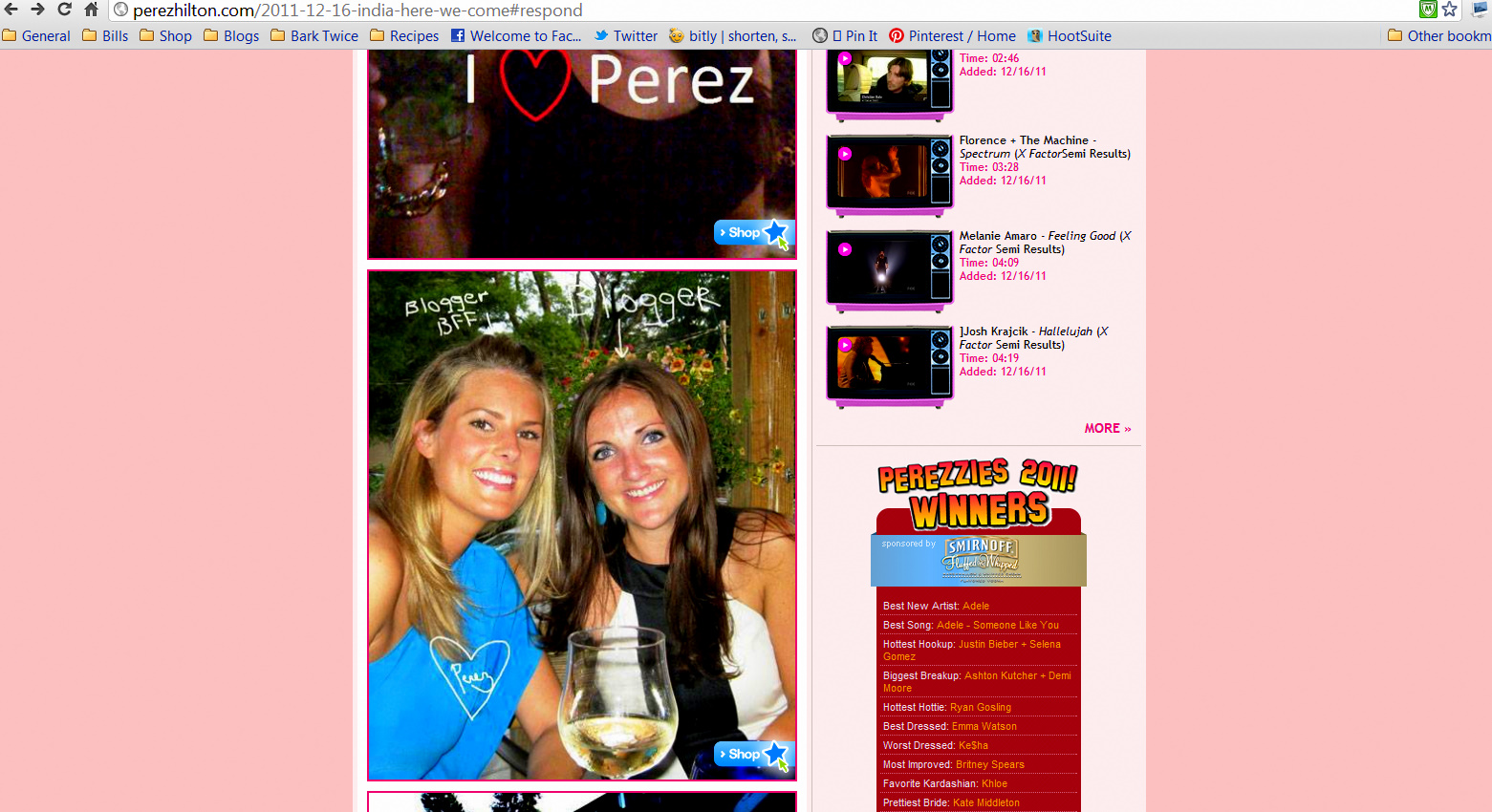 There are like 97 other pictures of the two of us I would have chosen over this one….but whatevs. That was a great night: Basil's patio with ABE the V and Paxton…we sure did laugh a lot, and that was the first time I had the life-changing grits AND the first time I tried vinho verde – a very tasty Portuguese varietal that I later wrote about here…but I digress. We actually look pretty normal compared to the other people – the other people who took the time to send Perez a photo professing their undying love and affection. Good grief. I tried to post a comment with a link to BBT, but it hasn't shown up yet…may as well try to get some new readers out of this HUMILIATION.
Oh, and after their incident in the dressing room at Barney's Co-op the other weekend, Allison sent Sloane Crosley an FB message, and now they're writing back and forth. And the mother of the girl who writes Suri's Burn Book has been reading BBT this week, too. The writer lives in Atlanta, btw – maybe she and I should meet for coffee and talk about the blogosphere? I am whelmed.
**3.5 years later, BBT says: I really love this. And that's a great pic! My 15 minutes came and went so quickly <overcome with nostalgia, sighs deeply, returns to day job>
4 Responses to "My picture is on Perez Hilton"
December 16, 2011 at 1:15 pm

this is my favorite christmas present.

December 16, 2011 at 1:17 pm

I WAS BORED.

August 9, 2012 at 2:17 pm

[…] Clockwise from top left: Tina got married; Char got married; 50 Shades of Grey happened; I made a very helpful flow chart; BBT is moving to NYC; Ryan Lochte tweeted, joined Mensa; that's me on Perez Hilton […]