Posted by AllieB on August 16, 2011
Meet & greet: the lap giraffe. At its tallest, it grows to be approximately 30 inches, or 2 feet 6 inches tall. As a bambino, it is a mere 6 inches tall. If you want to see the live cam of the farm on which they live in Russia, go here. If he's not there, don't worry – he come back.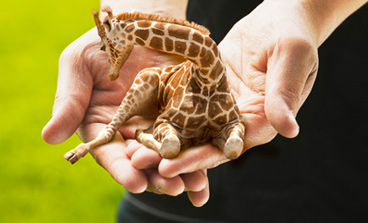 A two week old lap giraffe.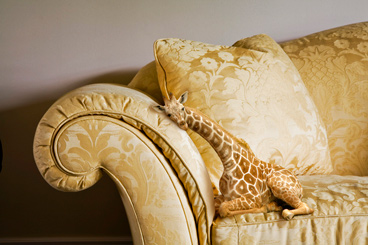 Ivanka – she is the most famous and wealthy of the lap giraffes
Per the website:
Petite Lap Giraffes are very funny animal that require special care. They need lots of love. Hugs and kisses every day. Otherwise they make tears.

Grooming: a bubble bath once a week with purified water is all they need.
In case you haven't picked up on it, lap giraffes do not exist. But how cool would that be if they did?! Get it together, Science – I want a lap giraffe like NOW, Todd. I need two – one for me and one for my good friend, MPvZB.
I definitely fell for the hoax of the lap giraffes. I mean, I had my doubts, but they can clone and crap nowadays, so why can't they have miniature giraffes…it was when I got to the pictures of Ivanka that I was like, "waaaaaaait a second…" I believe anything you tell me can always discern fact from fiction…and make use of the helpful web page, Snopes. And tap into the wonder they call "common sense."
I blame Tuesday for this momentary lapse of judgement. Tuesdays and Hilary are always to blame for my mishaps.
2 Responses to "Hey, look – gullible is written on the ceiling"
August 16, 2011 at 3:55 pm

Ivana lap giraffe.

February 14, 2013 at 1:07 pm

[…] Ugh, fine, Happy Valentine's Day!! I'm really not some embittered anti-St. Valentine person; I mean, second only to Easter Valentine's candy is the best, plus my bevy of Secret Admirers are sure to come thru with dozens and dozens of roses and diamond tennis bracelets…besides, Valentine's Day is for love of all kinds, so, if you think about it, no matter who you are we all have something to celebrate today. Yeah, and mini-giraffes are real.  […]