Posted by AllieB on May 4, 2011
The Annual Met Gala is one of my favorite nights of the year because of the clothes. Yes, it turns out BBT is not only a female, but she has girly interests – the mind reels. For instance, I love Brooklyn Decker, Gwyneth and Diane Kruger (I always love Diane Kruger and that Joshua Jackson is still a real hunk, IMO):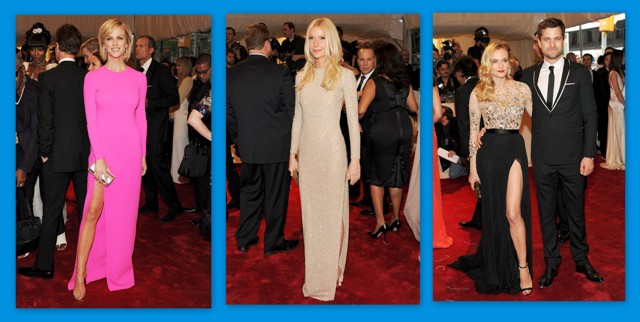 all images from elle.com
Gorgeous pieces, all of those.
I've just learned the devasting news that Kristen Wiig is retiring two of her SNL characters forever, PERMANENTLY. I saw the headline and was like, "oh no, so long as it's not Gilly or Penelope…" Obviously, it's Gilly and Penelope. I'm so sad!!! Actually, Gilly I can do without – I'm not sure I've even seen one with Gilly – but I love Penelope. I love people who insist upon one-upping others – they are so easy to make fun of later. I even did a post about Penelope. RIP, Penelope.
I've started a new gig! As of today, I am now a "contributor" to Buckhead Patch, an online news resource that is about…Buckhead. For my first post I cheated and posted basically the same entry I wrote about Tex's Tacos a couple of weeks ago. I made a few changes, but I figured it was a good idea to kind of ease in. Anyway, if you want to read something similar to but not identical to something you've likely already read – check it out. OR if you just want to show support to the good, hardworking proprietors of Tex's, send the link on: Food Truck Phenomenon: Tex's Tacos.
I can't remember…. is tomorrow Friday? (credit: Char)
No, but it is Cinco de Mayo…! More on that tomolla. ¡Olé!
6 Responses to "I love that piece you're wearing"