Posted by AllieB on October 28, 2010
I really don't mind going places by myself – sometimes I actually prefer it – and usually I am quite adept at getting myself to the correct location at the designated time. Last night…not so much.
My plan was to attend this Young Professionals Mixer from 630 – 730 then head over to Supper Club. I arrived at Sweetwater at 6:35, and when I didn't recognize any cars I didn't think anything of it. Upon entering the venue, however, I began to notice that things seem to be amiss: noted lack of any political signage, and a highly atypical crowd (so heady) compared to the usual types that show up at anything "Young" and "Professional" – put it this way, there was absolutely no reason for me to think that I was at the right place. Nevertheless, I forged ahead and paid for a glass, ordered a Sch'wheat beer (which I've been meaning to try – very good, very unfortunate name), and posted up at the bar.
It was whilst BBM'ing with Harriette Lynn, who assured me they were nearby, then almost there, then officially there, that I realized my egregious error: wrong place. This was confirmed when I asked an employee where the Young Professionals Mixer was, and she looked at me like I had three heads.
Turns out I was enjoying a nice little Tasting Room event – me and 150 other people I've never seen before in my life. BTdubbs, this Limited Edition Dank Tank varietal is pretty good.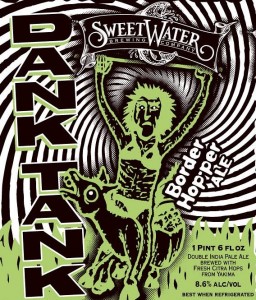 Wrong place, right time? Fail. Anyway, I left and drove alllll the way over to 5 Seasons Brewery on the Westside – which was actually much more convenient to Supper Club in Collier Hills – and enjoyed the company of good friends and lots of laughter directed towards moi (and a little directed towards Julia). "Sweetwater" and "5 Seasons" aren't all that similar, not even a little bit.
I've said it before, and I'll say it again – it always makes me think of you, Hilary…
"Turns out not where, but who you're with that really matters…"
4 Responses to "Dunce"