Posted by AllieB on January 12, 2011
I've just woken up from my afternoon nap (today it was more like an early evening nap), and I feel very well-rested. Having slept for 12 hours each of the last 24, I feel really very clear headed and wise. A tad sluggish, but getting back on the BBT horse earlier helped a bit – these posts don't write themselves, you know.
Right before my nap, I was on Facebook, hitting refresh on my mini-feed and waiting for some sort of exciting information to pop up. It didn't. Then, I saw it – on the bottom right hand corner of my page…Facebook Chat. It's omnipresent with its grey dot, but I obviously never, EVER sign on the thing. I strayed towards it on my mouse pad, weighing the pros and cons as I got closer and closer….
ALLIE – NO!
Luckily, I was able to stop myself in time. I marched straight over to the carpet and knocked out a few sit-ups, punishing myself for such a near-miss. Facebook Chat?!? Never will I ever. Then I took Max outside and we both nearly bit ass on the sheet of ice that is the driveway. The shock of cold air did us both some good, and we came in revitalized and refreshed – in other words, in perfect shape for a nap.
Another lesson in poor judgement that I almost executed earlier was the purchase of some Pajama Jeans. I was watching some riveting daytime television when the ten minute infomercial came on…intrigued, I moseyed over to the website to do some more research – I mean, what a great idea: the comfort of some pj pants combined with the style and fit of my fave pair of designer jeans! And, what's this: a free grey crewneck T that I get to keep even if I return my Pajama Jeans?! Sold. There's no way these are too good to be true.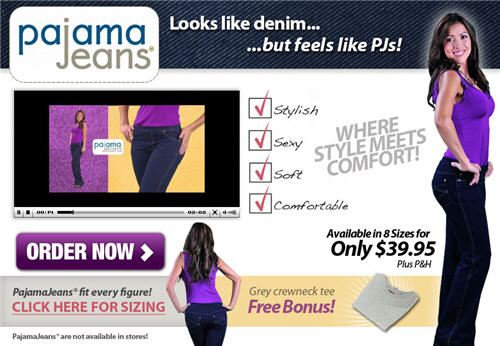 ALLIE – NO!
I think we can all agree these bad boys – genius as the premise is and as reasonable a price – are indeed too good to be true. Great for loungewear, maybe, but not so much in public. There's one woman riding a bike in hers on the informercial – I guess they could be okay for that, too, and maaaaybe for a Sunday trip to the grocer…but probably leave them at home on your next dinner date.
So, a couple of close calls today…fingers crossed I venture out tomorrow. In fact, hopefully upon reading this those with mobile mobiles will be so concerned about my sanity they will come to get me, ignoring my insistence that they not put themselves at risk. Plenty of people have offered to fetch me, I would like to note, but it didn't seem worth it….rest assured, I'll be singing a different tune tomorrow.
2 Responses to "Ruminations Part Deux: Help."
January 12, 2011 at 8:25 pm

My blog is turning into the kind of blog where people detail every little insignificant moment of their decidedly not interesting lives…it's a good thing I get out more than this, typically, or else I wouldn't even read BBT.

January 13, 2011 at 9:37 am

Hey, nobody can blame you for seeking an outlet through which you can communicate with something/one besides yourself and an (adorable) dog. Blog all you like, Baxter!