Posted by AllieB on May 5, 2011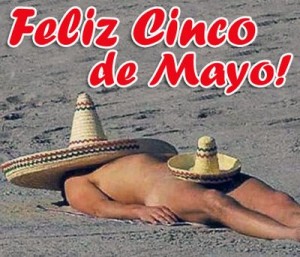 HAPPY CINCO de MAYO!!! Let's jump right in. Tex's Tacos, a little food truck I mention from time to time, is having a fiesty fiesta with their neighbors, Kramer's aka Kramerica aka the bar. I'm not sure if Skinny Girl margs are on the menu, but you can bet yer ass that some tasty tacos will be…Souper Jenny has free sangria…check out this  totally manic website to find out what else is happening in your world tonight.
Good talk. See ya out there.
I often criticize others for their inability to behave, speak, or dress in a sensical manner. Where are their filters? Their scruples? Their MIRRORS??
Hello, pot? This is kettle – you're black. Case in point: an interview that aired on the WSB 5 o'clock news a couple of years back wherein I discussed savings bonds. I know as much about saving money as Hilary does about shirts that aren't plaid, so clearly I'm the ideal person to weigh in on smart, practical, safe ways to save chedda and generate decent interest. Here's the online article – I am ever so grateful that the video is unavailable.
"When I think of savings bonds, I think of old fashioned, old time, not really the best way to save or invest your money," said Allie Baxter.

CD rates at most banks are around 3 percent. But I-series savings bond are a much better deal…..[blah blah blah money blah blah interest rate etc etc]…..In six months, because of inflation, the interest rate will go to six percent; double what lots of banks offer on traditional CDs.

"Oh, it would make sense to get into that, then," said Baxter
Oh, would it? I sound borderline uneducated. The interview was filmed at the Fellini's on Peachtree on a sunny Friday afternoon; I was there enjoying a midday meal with The Original Serve (herro Billy, Pal, Pants, Tina). Although my "friends" definitely egged me on, I never would've donated my dignity volunteered had the tv crew not mentioned that it was for Clark Howard's segment. I'd jump off a bridge for Clark Howard. WWCHD?
I'm having a hard time remembering why it was a good idea to share that story…
Vamanos, muchachos.
8 Responses to "The Fifth of May"