Sometimes I feel like a tool having my own blog. I've more or less come to terms with it, but really – the word "blog" is totally nerd-chill inducing, and I like to think of myself as the anti-nerd, which is why I go the public library at least once/week and am obsessed with all things Kate Middleton.
One of my favorite things about BBT is that people seem to be reading it; I especially like it when they tell me what it is they like best. I received this email recently from a friendly reader, and it made my week. Also, the author of said email is hysterical and I'd be remiss to not share it, even if it wasn't about BBT (it is, though – it's about BBT):
Although I have not vocalized this in a comment on your blog, I oh so enjoy reading it.  It makes me giggle like all of the small school children that I had to accompany to Wicked on Wednesday as part of community service outreach (the play was entertaining but not as much as Crystal and Shantelle's argument about whose shoes were the most "crazy fly").  And though I can't enjoy your food trucks in Atlanta, I do frequent the trucks roaming the streets of Another City* and have awoken in bed with remnants of said food trucks on my chest.  I also was propositioned once by an Indian falafel maker…so yea, I am pretty well known to the Other City* food truck industry.  I am classy though, so I didn't go through with it even though in my mind I was picturing myself sitting on a throne of falafels wearing my jewel-encrusted crown, tossing some out the peasants under my rule…that's what happens when you marry a falafel maker and move back to his country, right?

Anyhoo, one of the funniest things I saw on your blog was the picture of Hilary (re: lesbian boat driver (captain?) in plaid – I hope Birkenstocks were involved), but everything else is also up to my standards of daily internet consumption, in fact quite higher than my standards.  And I don't mean to toot my own horn, but toot toot as my standards are quite high (see not hooking up with the falafel maker discussion above).  Keep up the good work!

*changed to protect the innocent…or not-so-innocent as the case may be (see throne of falafels)
Unlike my advice columns, I did not make this up. How could I – I have neither the creativity nor the verbiage to compose such an email. To the auteur I say: toot toot right back at ya.
How funny was that picture of Hilary…while she was not wearing a pair of Birks in the pic, she was sporting a pair of navy blue Crocs – clog-style, complete with heel strap.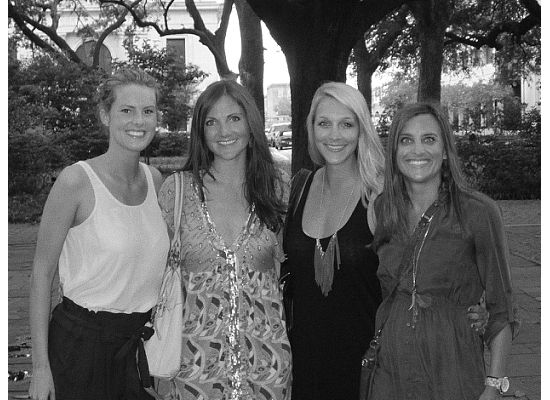 The weather is here, wish you were beautiful.. Lurve, Pal, BBT, Pants, Billy