Posted by AllieB on July 19, 2011
I am a wealth of generosity today – I think I woke up on the right side of the bed (thankfully, not upside down).
First, may I direct your attention to the menu bar above – HOME, ALL ABOUT ALLIE, ATLANTA RESTAURANTS: A GUIDE, BEST OF BBT, and…BOOK LIST! I promised one P.V. (pre-virus), and it's come to fruition. I wouldn't call it comprehensive, necessarily, but it's a good start. And, if I could steer you towards one read in particular, it would be Unbroken by Laura Hillenbrand. It is by far the best book I've read in 2011. It's topping all kinds of charts, but the subject matter seemed daunting and I'd been putting it off…don't make the same mistake as me. It's a WWII non-fiction story, and it is – in a word – spectacular.
WEEEEEEE! My mom gave me the hard copy of a WSJ article a couple of weeks ago featuring these leaping pigs, then InTouch featured the photo in some weird photo section they have in the back (InTouch is not for reading – it's for pictorial perusal only), and then Yancey asked here it had come from, so I looked online and hark! here it is.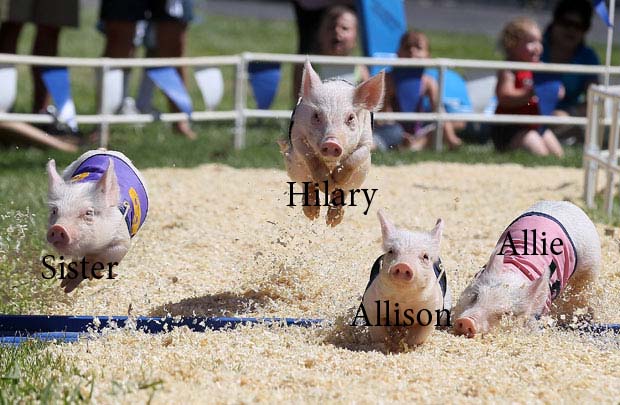 One guess whose handiwork this is.
CKB's in town to do wedding stuff…..BOLO for a 27 Dresses-esque montage of hein b'maids dresses. Not for serious, of course, but just for fun. Part of MoH duties include vetoing things that are ugly, but I will gladly prance around in the most hein thing they've got for our own entertainment. That's how it works, right? Bridal shoppes love me….BRIDES by Demetrios, in particular.
I am feeling unusually charitable this morning – I very easily could've segued to a mini-rant about why Katherine Heigl is the pits, but I refrained. I think it's the pigs – the pigs are making me extra friendly. If you've got something you need from me, today would be the day to ask. Sister, yes I WILL make you that sandwich.
ALSO I fixed my insides and am now showing up properly on the Goog. "Baxter Bark Twice" gets you straight to my page…that was a huge pain.
2 Responses to "I'm not usually this nice – ride the wave"
July 19, 2011 at 10:36 am

You make the BEST sandwiches. REALLY REALLY.

July 19, 2011 at 12:04 pm

weeeeeeeeeeeeeeeeeeeeeeeeeeee!