I'm surprised someone hasn't spoken up about this because HOW RUDE: I forgot to celebrate BBT's birthday three weeks ago. Now I get why there's nothing in my baby book after my first birthday – it's just not as exciting. The second year was a little rocky; the dreaded "sophomoric slump" was something of an issue – ie the two months I didn't write – but there were still some noteworthy moments. I do love a good pictorial retrospective: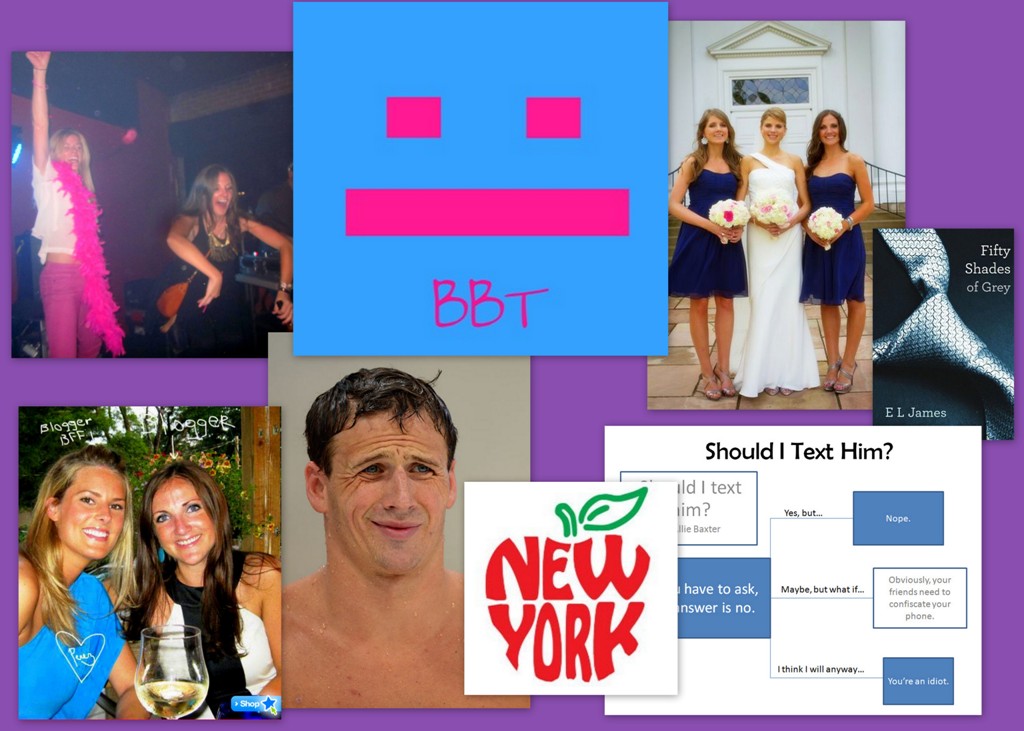 Clockwise from top left: Tina got married; Char got married; 50 Shades of Grey happened; I made a very helpful flow chart; BBT is moving to NYC; Ryan Lochte tweeted, joined Mensa; that's me on Perez Hilton
I haven't been as vigilant about tracking my site analytics, but it's always fun to see what people Goog to land on my page – searches from the last month include:
-funny chicken wings

-did the Malaysian woman go to jail for beating her baby

-stealing

-a guinea pig house that's simple to make but looks cool

-i hate obnoxious girls

-who's right, allie or jordan (Editor's note: I wonder who searched that?? Too funny.)

-sexy fat girls
Hmm strange. I'm not sure how I feel about those phrases queuing up BBT in search results. It's true, though – I really do hate obnoxious girls. And if anyone knows how to construct a guinea pig house that's simple to make but looks cool, then BY ALL MEANS let me know.
Blog of the Week: McKayla is not impressed. Ha!
Today is Thursday, by the way. It could be Tuesday, for all I know – my lack of daily structure leaves me with zero perception as to what day it is, but it does lend itself to multiple blog posts/week…I was hoping today was National {insert a tasty beverage here} Day, but all I could come up with is National Mustard Day. Boo. Let's pretend it's National Drink Wine Day, instead – join me, won't you? (For the record, the next Drink Wine Day is February 18, 2013, which means there are only 193 days left to hone our skills. OMG, A, that's the day before your birthday…what a happy/par for the course coincidence!)