Posted by AllieB on August 9, 2011
WTC! In Paris they now have 24-hour vending machines that dispense piping hot, freshly baked baguettes. I want to go to there!! If only they'd gotten their act together a year ago. I've been reliving our trip to France all week by way of photographs – minus the dead lady on the plane ride over (total downer), it was a perfect vacation…hindsight 20/20, right? In true Fat American fashion, Al Roker remarked: "They need one of those over here that has donuts instead of baguettes…" Good call, Al – just what we need, another champion for America's obesity…especially from someone who's actually already had gastric bypass surgery. I'm really down on the Today show right now, yet haven't been able to pull the trigger on GMA…six in one, half dozen in the other.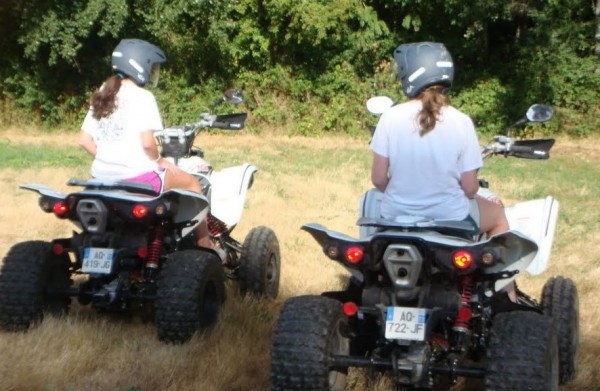 4-wheelers that went up to like 50 MPH – that's fast, right? They went really fast. Ode to Georgia Bar. (My t-shirt is a GA Bar t-shirt.)
Ok. This is the type of information that I would maybe tell my friends after I've been doing it for awhile … truth bomb: sometimes I sit on relevant information before sharing it with my peers. Of course, everyone could have known about this all along, making me moron who thinks she's got a piece of groundbreaking information. Anyway, without further ado: I've been reading this blog written by Victoria's Secret model Chrissy Teigen. I know…she's dating John Legend and is actually pretty hilarious…she's kind of a nut -I think we'd get along nicely. I follow her on Twitter, too. Anyway, I she imparted some very valuable wisdom in her post, "Ugh, alcohol:"
*fact: most fashion industry people that are watching their weight (so everyone) drink vodka/club soda splash of lime. Even lighter. Get Goose. Potato vodkas are a no no. This is my drink of choice lately. Kind of tastes like ass, and trust me, I can't wait for swimsuit modeling season to go away. I miss the cold Christmas shopping days where I fill a to-go cup with coffee halfway and pour Bailey's in the rest. Then I hit the city, shop, and completely forget what I ended up buying anyone until I get the thank you cards. It's fun.
Minus the part about swimsuit modeling season :|, I really appreciate this whole excerpt. And I'm glad to know I no longer have to buy all my Christmas gifts online – her plan sounds pretty awesome. Anyway, this part about Grey Goose only was very interesting to me – it's made with wheat in France. You know how no one in France is fat??? Oh wow, this is really coming full circle…baguettes from Paris, vodka from France…I never tie things together so nicely. Horn: tooted! And now I really, really want to go back to France.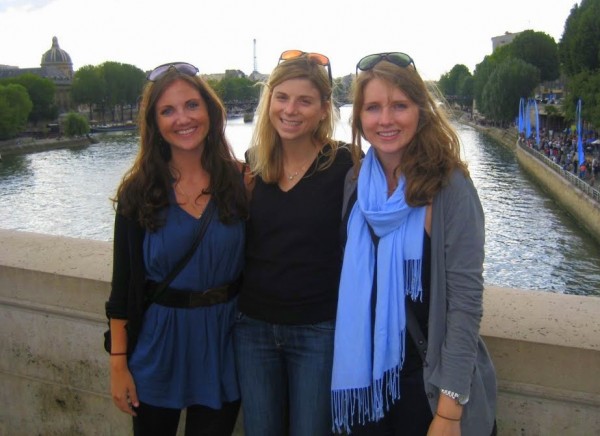 Sisters in Paris. Notably absent: hot, fresh baguettes from nearby vending machine
On notice: Betches Love This Site. It's become an internet sensation and I hate it. I don't even really want to link to it because they get plenty of fraffic as is, but…whatever, here it is. They started it in February and have 35,000+ followers on Twitter and apparently have a movie deal. WTF! They cuss too much – it's very crass. However, they write anonymously which is I figure how they get away with some of the stuff they say…I mean, I guess they're entertaining – I feel like they appeal to a slightly younger (read: college-age) demographic – one comprised of srat sistas who love to flip their hair and squeal. I cannot stand shrill, high-pitched people. I think the Betches and I can just agree to disagree…unless they're looking for staff writers, in which case I may or may not be available.
4 Responses to "What the crap!"