Posted by AllieB on September 7, 2011
Oh, hello. Time for some Q & A.
Are the Dawgs going to disappoint us all season?

I don't know, but Saturday sucked. Royally. And the uniforms of both teams were eye sores – let's keep the fashion statements off the field, shall we boys, and I won't try to discuss a topic about which I know nothing. Next question.

Is it time for an eggtervention?

Yes. I love eggs. I just made an accidental and surprisingly healthy french toast by putting slightly runny scrambled eggs on a bagel round then going on a fit of tidiness and cleaning my kitchen. By the time I got to my breakfast, I had a borderline french toast situation that was a-mah-zing. If I talk about this anymore I will lose 99% of my readers (Mom, you'll still read, right? You love eggs!), so, self – consider this an intervention. INTERVENED.

Does the phrase, "clear as a crystal, sharp as a knife" have new meaning?

Unfortunately. It's the Billy Joel lyric that the sad-and-getting-sadder Lindsay Lohan tattoed on herself. She might as well have gotten, "I am begging you, please do not take me seriously" inked on her torso and called it a day. Or maybe, to keep things short and sweet, a simple "hot mess." I'm going to stop talking about her, it's just too pathetic.

Is writing BBT sometimes a pain?

Pass.

What restaurants have you been to recently of which you are especially fond?

One Eared Stag in Inman Park. I went with BP to a swanky cocktail thing there a few weeks ago. Like: bar treats are not your standard bowls of nuts, but mason jars of cured bacon. Like: their Moscow Mules. Like: they had lard. I have a special fondness for all places that offer lard on their charcuterie plate. It's got a very cool yet chill ambiance, and – AND – perhaps the best thing of all: it is directly across from the Marta station. I'm not sure which one, but how's that for convenient!

Also, all things in the Westside Provisions District. I dined with Pants and Pal at Taqueria del Sol yesterday, then we continued our binge at Star Provisions. I want to live in Star Provisions. And I want to dress my non-existent child in things exclusively from B. Braithwaite. And myself in things from Anthro and Ann Mashburn. Christiane Celle, founder of Calypso clothing was in Atlanta recently on a scouting trip and she – the taste maker herself – declared the Westside to be a very "chic" neighborhood.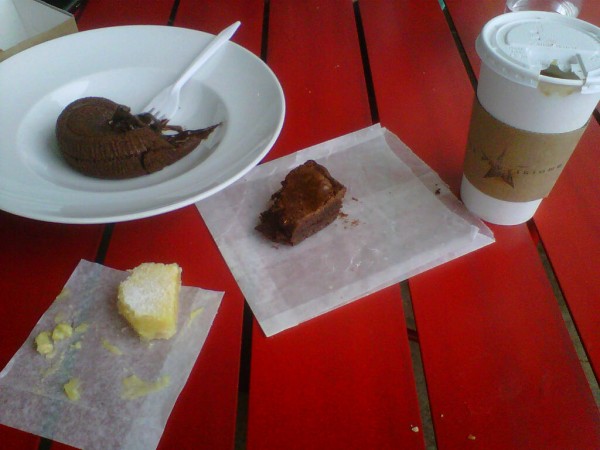 Remarkable: my crap Blackberry camera makes even Star Provisions look unappetizing. Also not helping: Sister and Allison's mauling of the treats.
Molly, I think you're very wise to suggest my B'berry to shoot our Bootlegz post. Molly is the founder of Bootlegz – you can read all about them here and BOLO for our upcoming post. This pleasantly fall-esque weather reminds us that fall is around the corner…! I.E., time to purchase an accessory that ensures our jeans stay put beneath our boots. More on that later.
Just to highlight the difference between my camera and, say, an iphone – enjoy this dramatic image I swiped from BP's instagram images. My life is sad.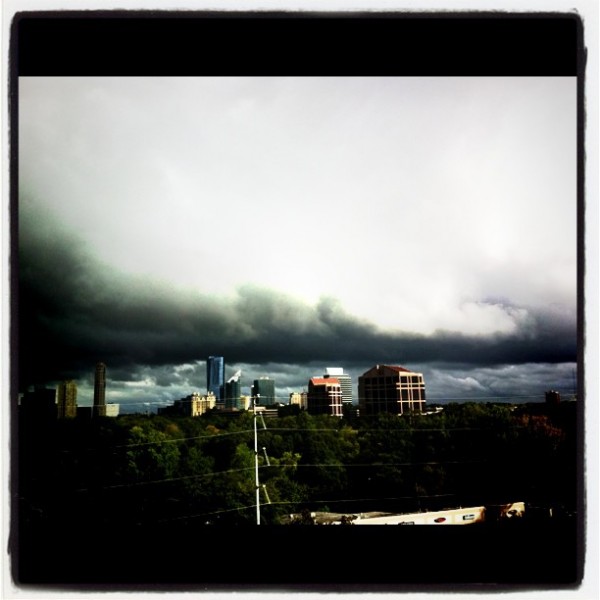 The skies are angry!