Posted by AllieB on January 24, 2012
It's a beautiful day in the neighborhood, no?
Well, I totally dropped the ball on this one: the "First Place Passion" – a tour of first homes which is part of the annual Cathedral Antiques Show – happened on Sunday, January 22. I think I thought I had more than one opportunity to check it out…I really need to start reading beyond the headlines. My nearest and dearest Nancy and Ryan Duffey's home was featured, as well as Clary Bosbyshell's and Nicky and Jack Arnold's. Per the account of the always reliable and ever so tasteful Carol Harrell, the houses looked awesome. Neat, I'm sure they did. Nancy, I'll come over for some wine this week and you can take me on my own personal tour…in a non-weird way, of course.
Good news: you can still see the Inspiration House – here's that info:
Premier – Saturday, January 28
Tours Sunday, January 29 | Thursday, February 2 – Sunday, February 5
Thursday, February 9 – Sunday, February 12

The Inspiration House, located on the grounds of The Cathedral of St. Philip, is for anyone who has a passion for design that elevates the day-to-day living experience. Twenty up-and-coming designers showcase their creative talent in a home that can inspire ideas for the modern family. The Inspiration House is included in the Tour of Homes.
Donation: $10 at the door without Tour of Homes or Antiques Show tickets.

More info here. Nancy Duffey and Allison Harper are two of the twenty designers showcased in the House – they did the nursery. IN FACT, check out this article I just stumbled upon – way to go, you two! So talented and famous.
AND you can still attend this event, which is not your grandmother's antiques show but an actually fun and lively partay, hosted by some seriously serious heavy hitters (purchase tickets here):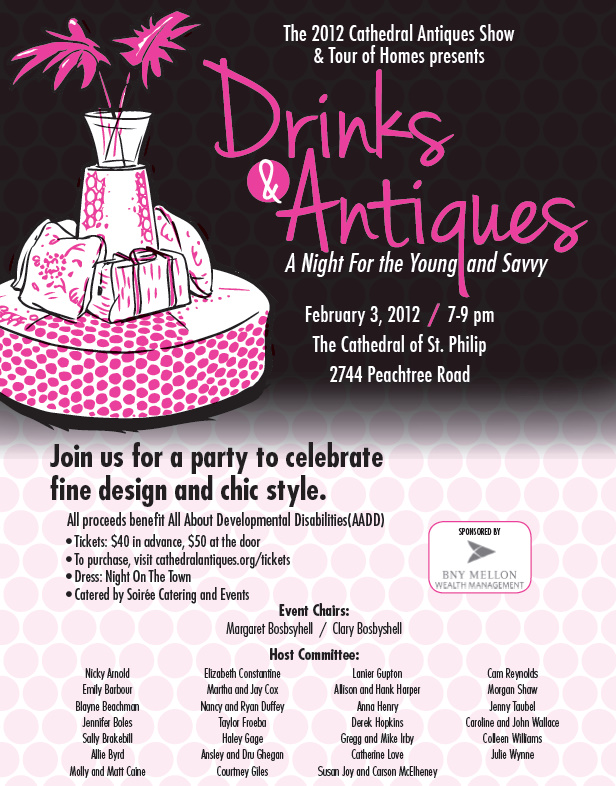 I am cranky. First of all, I realized last night that I have no plans to leave the country this year, and I'm really bummed. I know – first world problems and all that – but this is just bleak…this time last year I was preparing to go to Pakistan. That was a great trip. NOT that I'm saying I wish I was returning to Pakistan – I'm pretty sure such a jaunt would be strongly ill-advised by the CIA travel website – but I wish I was going somewhere…Secondly, I woke up this morning to the breaking news that Starbucks is going to start serving beer and wine. Oh, really, 11Alive? Breaking news? I beg to differ. May I direct you to this entry from October 19 2010, which is one of the least read posts in BBT's history – there are zero comments. This isn't the first time I've scooped the local news.*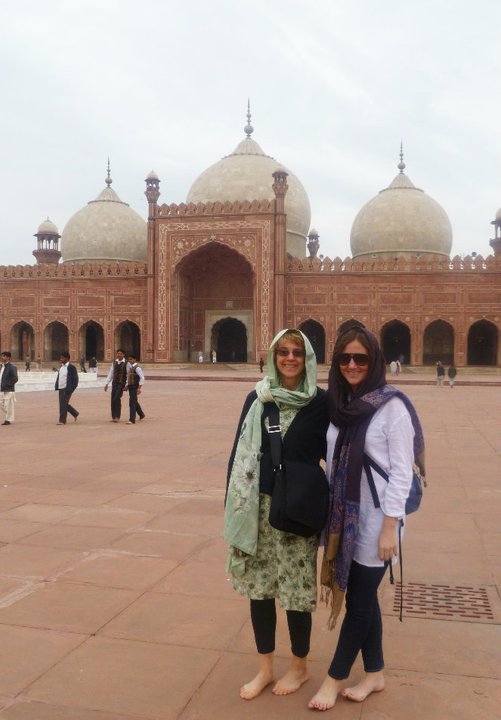 G-force and I at the Badashi Mosque in Lahore. I will likely share more pics in the coming weeks as I reminisce – I know you are all waiting with breath that is baited for a shot of me in my salwar kameez. Good times.
*Upon further research, I learned that Atlanta is one of two locations nationwide that was chosen to launch the beer and wine, the other being Southern California. I guess that is kind of newsworthy. I will acquiesce on this point, but I still say I scooped the news.
APU^, writing BBT has cured me of any and all crankiness and I'm back to breezy :)
^Hilary, that means "as per usual"
4 Responses to "A day late and a dollar short"
January 24, 2012 at 9:33 am

I think it's good you're staying stateside. Now you'll have time to work on the acronym dictionary.

January 24, 2012 at 9:45 am

In response to your non-international travel:

http://www.nbc.com/saturday-night-live/video/white-people-problems/1377399