Sorry, I've been busy.
Last night, G-force and I decided to be good people and volunteer at the Jeffrey Fashion Cares event supporting Susan G. Komen for the Cure—Greater Atlanta Affiliate and the Atlanta AIDS Fund. It was on the 32nd floor of the still-not-full office building on the corner of 12th and Peachtree next to the Loews hotel and had sweeping views of the city – stunning! Our first job was to people watch man the silent auction. I observed the following observations:
if you can't zip your skirt up all the way, don't wear it. Venture up a size or maybe just avoid white stretchy satin altogether
TRENDING: handbags with your children's photo silk-screened onto them. Nope. Stop that now. Ok for birthday cakes – maybe – but find another way to bring up your offspring than literally wearing them.
having interpretive dancers randomly seizing dancing throughout a reception can be cool, but maybe mention that in the program. One guest nearly administered CPR on the male dancer whose three-piece suit was evidently not made of a breathable fabric…it seemed like he was about to have a heat stroke.
Jeffrey of Jeffrey is a fabulously charming, polite, friendly, and well-dressed human
people – women, namely – of a certain social set, could use some pointers about dressing their age…if you're over 60, let's leave the Herve Leger at home, shall we….
Our second job was getting payment from people who won things in the Live Auction. This, as I know from my tenure in non-profit events, is very important. People bid, win, then skirt out before you can get money from them and then you have to stalk them down and it's awkward and uncomfortable. Solution: divebomb them the moment the auctioneer declares, "SOLD!" One of the items was a cruise by Azamara. Yes, please. The gentleman in the center was the winner. In order to get to him, I had to claw my way over the woman seated on his right. Oh, hi, Nene. Didn't see you there – hope I didn't stomp all over you as I attempted to my launch my clipboard into this gentleman's lap. If you know me at all, you already know that I definitely stomped all over her as I attempted to launch my clipboard into the gentleman's lap. Allie….no.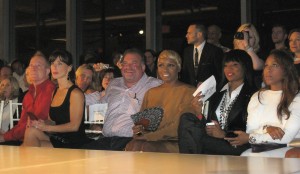 Source: The Buzz.
Because I knew someone on the inside (Lacy), my mom and I were able to take home a swag bag each….holla! One week at the Exhale Spa and Gym in the Loews Hotel, a facial at Derma-Luxe, a free bottle of Sinless Margarita mix, some Kerastase products, and $25 to Three Sheets in Sandy Springs. (I actually wound up with three of those Three Sheets things…? Oops. I guess we'll go thrice.) I'm really excited about the Exhale one, in particular…Tina, are you allowed in there still?.
I kind of missed the boat on VMA commentary – in a nutshell: Lada Gaga is a freak; Beyonce and Jay-Z's kid is already the luckiest kid in the world; Britney was waaaay underplayed; Kim Kardashian's rear end deserves it's own zip code/tax bracket.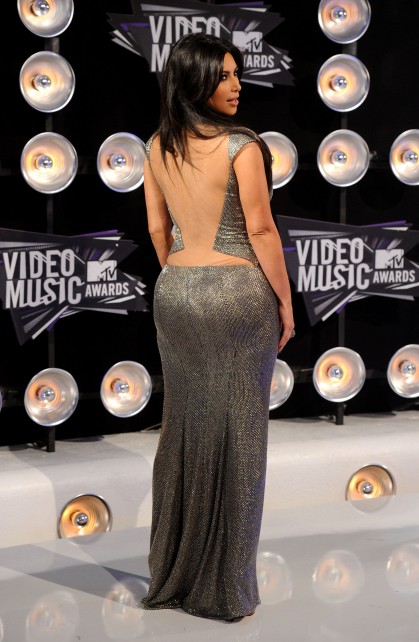 Last, and by far the most important thing I've said on BBT in ages: FOUR DAYS TIL FOOTBALL. I am very excited for The SCS Event on Saturday that I will be attending with 900 of my nearest and dearest. I'm really really excited about trying Melissa Fontaine's Athens-based Hip Pops and, of course, getting my fix of carne asada from Tex's Tacos (their schedule for the week).