To those who responded to my survey….thanks. I don't know if it's because I was overwhelmed by so many responses (a pleasant surprise), or because I waited longer than my usual 1.5 day turnaround before doing a post, but I'm feeling the opposite of inspired. I asked about gifts for the holidays, y'all all answered, and I'll sum it up for you: don't buy anyone socks, clothes for work, and don't you DARE enroll ANYONE in a jelly of the month club. Also, three people (3 out of the 63 who participated), specifically mentioned not wanting a Nickelback CD. Look, if you're concerned a Nickelback CD awaits you beneath the tree on Christmas morning, there are issues with which BBT cannot help. My heart goes out to the %.05 of you facing  this imminent doom. Hey, maybe the world will end on 12/21, and then you won't even have to worry about practicing your "Omigosh I LOVE IT!" face when you open up an NB CD – fingers crossed! Let's see, what else…I had some really wonderful answers (some of which I may filch for material in the future and claim as my own original work), but also a fair number of really dumb ones. It is possible I didn't sense your tones, but I don't think that's it. Good news is – it was totally anonymous so no judgement! Just me wondering who the H I'm friends with.
Speaking of the people I am friends with, Hilary wants to show off her new Christmas sweater and would also like your help counting her chins: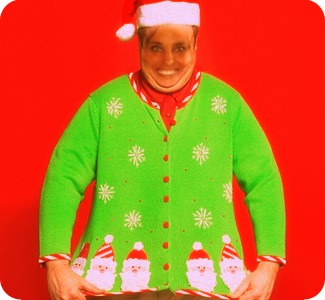 Sorry your hardwork is going unrewarded…in the future, I think I'll stick with surveys pertaining to the complex nature of relationships between males and females because that is where my expertise really kicks in. I honestly do feel badly if I've let you down – tell you what, if you're really at a loss re: gift giving, or are just that curious about the results, shoot me an email and I'll send over some highlights.
Instead of a survey, I'm going to borrow a section from my favorite weekly tabloid, UsWeekly: What's In My Bag??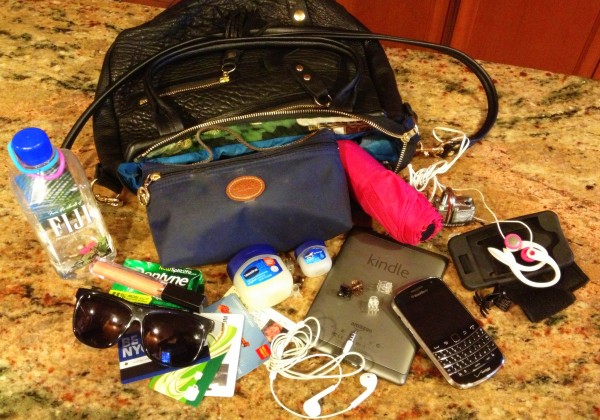 1. the bag. I just bought it, and I'm obsessed – thank you, Pinterest. I'd been looking for a new NYC bag for months, and this is perfect. LOVE.

2. umbrella. This is always in my purse when I do not need it; it's never there when I do

3. earphones (2) – one is the new ear bud from Apple that of course doesn't stay in my right ear any better than the old, but they suffice for a stroll; the others are the super cute kind that hook over your ear…these are for my yogs/when I am trying to lure members of the opposite sex

4. butterfly clips (9) of various sizes; two hair ties. Given the number of hair-related thingies I carry around, it's strange if not inexcusable that I am often so unkempt

5. one day I hope to go altogether purseless like Lucy (this seems promising, given the amount of crap I carry around), but for now I'm just walletless – Metro card, *$'s card, work ID, check card, license. My new bag has a perfect place for these – wallet, schwallet.

6. Kindle. It is my most prized possession, I go no where without this thing

7. padlock. I'm currently the member of a pretty sketchy gym – I joined on a whim with a Groupon during Hurricane Sandy because I really wanted to take a shower (they were, of course, closed throughout Hurricane Sandy), and I've got 10 days left in my membership. I look forward to not lugging around a lock that weighs 5 lbs. Equinox, here I come.

8. the large blue pouch clearly has in it all the things that you are not allowed to see. My bag – it's full of secrets…!

9. Vaseline (2) – obvi

10. everything else: gum, gloss, Sabre shades (possibly the most durable sunglasses on the planet), arm band for iPhone (my shuffle is on the DL right now – I hate running with the full size)

11. duh, my work Blackberry. I didn't downgrade; I'm using my iPhone for the pic. I thought about this oversight on the subway and hurried to correct the omission. God forbid.
That was fun. Don't you feel like you know me better? Minus all the stuff that's in the blue pouch…curious much?
DOGS ARE DRIVING CARS. Please click thru and watch this video – even if you only watch like 15 seconds of it, for which you don't even really need sound, this is the coolest thing I've ever seen. And I'm not making it up – source is TIME magazine, so it's legit. Y'all know I don't talk about vids unless it's worth your while…plus, it's in New Zealand and who doesn't love the Kiwis?  Admittedly, I haven't watched more than 39 seconds of it, but it was the best 39 seconds of anything I've seen in awhile…and now I'm watching it again.
I'm worried that you aren't going to watch it – here's a screenshot: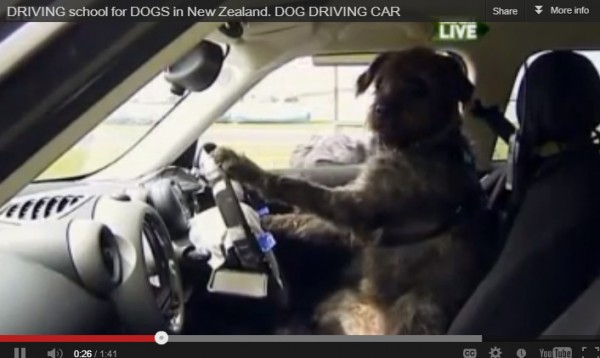 I die.
THE DUCHESS IS WITH CHILD!!!!!!!!!!!!!!!!!!!!!!!!!!!!!!!!! BBT is could not be more thrilled. What if she gives birth on my birthday??? What if I am asked to be a godparent??? She's going to be an adorable preggo person, and I hope she gets well soon. There've been a lot of strange things surrounding her pregnancy thus far, and I'm not going to talk about any of them. PLUS, since Kate is with child this means I can completely ignore the fact Jessica Simpson is also – unless she starts to blow up….and here we go again.
And, in that same ALL-CAPS vein, CONGRATS to my big sister Charlotte who's been working her a** off and has been rewarded as such – can't wait to see what ends up happening..! And I'm happy to weigh-in where needed; I'm known for being incredibly decisive…as always, it is a pleasure being related to you.
Lastly, did I mention that I saw the van up here a few weeks ago? There she was, just chillin in Chinatown. Wherever I go, so, too, goes the van.