Posted by AllieB on June 15, 2011
Tis a very good feeling to surmount the hump that is Wednesday.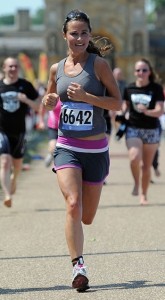 Pippa's single!!! Incidentally, Harry and Chelsey are in the latter part of their constantly on-again-off-again relationship, so mayhaps the rumors of the sparks that flew between them at the wedding could come to fruition…that'd be really weird. Their children would all be identical. My head kind of hurts even thinking about that – it's not incest, is it? It almost seems like it'd be wrong. Whatever. I said this a couple of weeks ago, but I'm still marvelling at the length of her torso; it is, like, really really long. This pic is from a 5k she ran recently – her time was 25 minutes 30 seconds. My 5k PR is 20 minutes 17 seconds…BOOM. I may or may not have been 14 at the time.
I enjoyed a delicious and free lunch at The Ivy today because I am a Black Card Member aka a V.I.P. I got a pizza. Their pizza is awesome, as is the new pimento cheese sampler/salad, the Club sandwich, and they just added a bunch of salads and stuff, too. You should try it out – if you go there enough, you might even be considered for Black Card Membership……
While I'm distributing accolades about town, I should mention CamiCakes. (Katie – there's also one in Jax!) I got Jordan a bday cupcake yesterday – I went with the "Classic Cami" which is vanilla cake with a truly awesome strawberry icing – and it was delish. There was a minor snafu when the gentleman ran my card for $2,700 instead of $2.70, but I told him Wells Fargo would deny that charge like Dikembe would a dunk and not to worry about it. We had a good laugh over the Dikembe comparison – he even did the finger shake at me. Good times!
I finally made a new mix cd. I've been listening to Girl Talk since before their concert in January and it's getting kind of manic. I have no idea what's on my new mix because I cannot get past the first two songs, which are "Chances Are" (that guy is hottt!) and "A Little Bit Stronger" from the Country Strong soundtrack. I'm not one for country or for singing along, but I have been belting out these tunes nonstop. This may surprise people, but I do not have a particularly melodious singing voice…less canary, more adolescent boy with bad allergies. I highly recommend both, but you can skip the movie, IMO.
That's all for today; I'm going to get my fitness on. Thanks, People.com, for this motivating photo gallery – here's a nice little preview for you, boys and girls:
Slackers.
5 Responses to "Get up offa that thang"