So, this could get interesting: this Saturday, from 12 – 2 pm at the Howell Mill Food Park (lot behind Willy's on Howell Mill), Tex's Tacos is being featured on the Cooking Channel's Eat Street program. The show airs nationally every Friday at 9pm, and it's kind of a big deal that they're featuring our boys. The lead researcher for the program found my blog by way of Tex's website, and they asked me if I'd like to come have a taco and share some commentary. Per the PDF call sheet I just received via email, I am going to be there as a Food Personality – ie, Mac serves me a taco and then I talk about it on camera. Mortification is sure to follow. Crowds of screaming people begging for a carne asada taco will look great on camera – come by and get one, then go watch the Dawgs kick some War Eagle booty.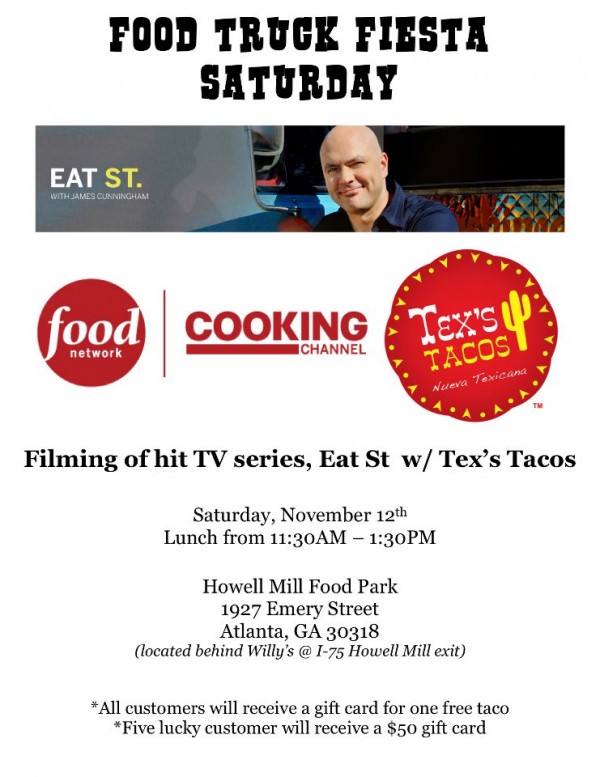 Info: SATURDAY 11/12/2011, 12 – 2 pm, Howell Mill Food Park, 1927 Emery Street, Atlanta, GA 30318
Here's the link to check out Eat Street's dealio. Seriously, if you're in town you have no excuse: FREE TACOS!!
I always knew I was meant to be on camera – for awhile, before I learned that my singing voice was more punishment than pleasure, I thought I belonged on Broadway. Broadway would be a total mismatch for BBT; TV is definitely the medium for which I am best suited. I am writing down specific talking points and key words so I don't sound like a blathering idiot. We all know what happened with the HORRENDOUS interview with Clark Howard's WSB news team back in 2k7…this will not be a repeat of that. I know a whole lot more about tacos than I do about saving money – I probably know more about astrophysics than I do about saving money. My internal filter is not always 100% trustworthy, so I've made note of a few phrases that I am not, under any circumstance, allowed to say:
"hitch my wagon to their star"
"kick some War Eagle booty"
In fact, I think I'll just stop saying those things altogether, TV interview or not. I hope I don't suck so I actually make it onto the program instead of being sliced and diced onto the cutting room floor….
I saved the best for last: today is Missy Baxter's 12th birthday. SHE IS OLD I GET IT. She's in my living room right now taking a casual nap. HAPPY BIRTHDAY, MISSY!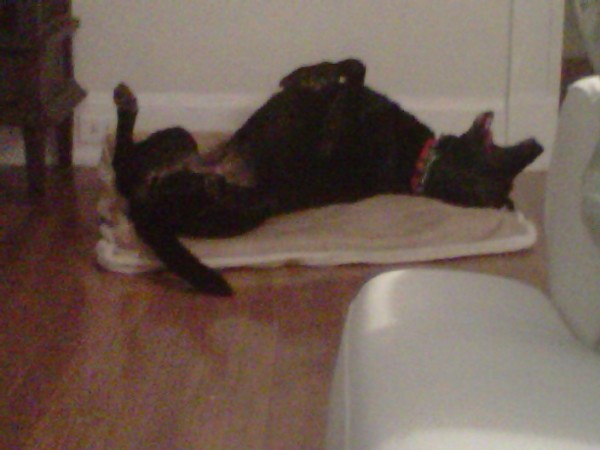 Happy Weekend! GO DAWGS!!!