Posted by AllieB on August 22, 2011
Today is not a bad Munday. I bet this is because Kim Kardashian got married on Saturday and I am just beside myself waiting for the exclusive photogs she sold to People for $2.5 million. That, or the two-part E! special for which she raked in $15 million. Kim Kardashian is a jerk, for the record – her engagement ring is 21 carats; she REGISTERED for gifts (oh really, Kim? Which place setting do you need? How about some monogrammed dish towels?); and all three of her Vera Wang dresses were a "gift." Like I said – she's  a jerk…a lucrative businesswoman, but a jerk nevertheless.
Lindsay Lohan, a guest to the nuptials, made the egregious error of copying Pippa Middleton's green dress she wore to the Royal Wedding in April. FAIL. Lindsay Lohan isn't looking doing so hot these days…I'm still convinced that a turn on Dancing with the Stars could revive her fledgling (and that's being generous) career, but she seems oblivious to my repeated suggestions, so I'm throwing in the towel. I can only do so much.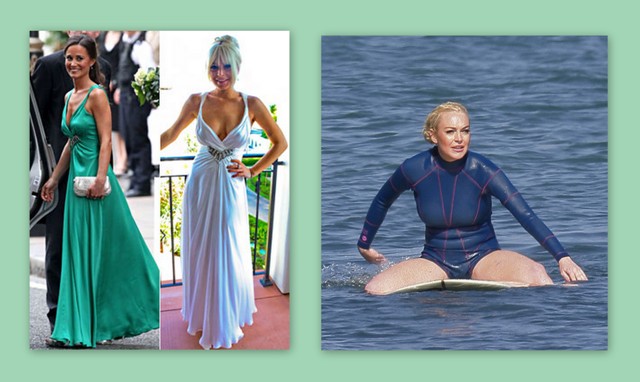 If someone wore that white dress to my wedding, I'd pour a glass of red wine down the front without a moment's hesitation. SO inappropriate.
Technological humor!!! BBM betwixt Boof and BBT referencing my profile photo:
Boof: Want to come to Bocado?

BBT: I do love that place. What time?

Boof: Just let me know camel?

BBT: Did you mean to say 'camel?'

Boof: 8:30. WTF is your pic?

BBT: It's a hippo?

Boof: No. It's a camel.

BBT: Hippo.

Obviously a hippo. Ok, that video is actually really cute…
This week, BOLO for: a rundown of fall TV, and I have no idea what else. BOLO for awesomeness – we'll just leave it at that. Four days til Friday!!
Dear Leila,
Hope all is well.
-BBT
2 Responses to "Hope all is well."
August 22, 2011 at 12:09 pm

Definitely NOT a camel, Boof.

August 22, 2011 at 12:42 pm

dear abby…I mean baxter. Will you please tell me how to download the handy dandy application that will allow me to cross out words?

hope all is swell.