Posted by AllieB on January 4, 2012
BBT is not an open book; that was never the plan. Mayhaps one day I'll start an anonymous blog so I can finally do surveys with the sorts of questions the male contingent has asked that I ask – none of which I can even kind of describe to you here – but til then I like to hold my cards close re: real facts and information. Be that as it may, I share with you some statistics about BBT. Sharing these goes directly against everything I just said.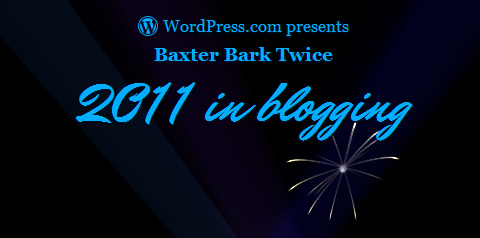 since its conception in July 2k10, I have published 279 posts on Baxter Bark Twice.
in 2011, BBT was viewed almost 100,000 times (NOT counting spam, bots, or spiders – I like the numbers a whole lot more when I include those guys, but…the blogging oath and all that). According to my WordPress Jetpack Site Stats, this means that if BBT was a concert at Madison Square Garden, it would take about 5 sold-out performances for that many people to see it. Neat. Kind of an odd metaphor, but it's nice to have a visual.
37 percent of all visits were new visits, the remaining 63 percent, obviously, returning. Of those 63 percent returning visitors, 51 percent visited over 25 times. Super neat.
This sounds an awful lot like bragging and a little bit like a math problem, neither of which are things BBT condones, but I'm kinda proud of myself – especially given my incredibly scattered content and lack of direction. Besides, a blog is nothing without her readers, so it's really you I have to thank…except Hilary.
MUZZLE. Let's talk about something else.
As much as I abhor all things Bachelor/Bachelorette, I tuned in for the season premier on Monday. It is insane. IT IS SO INSANE. What on EARTH is happening?! Sloan Crosley – you recall my bestie Sloan – tweeted that she'd like to be a Behind the Scenes Manipulator on The Bachelor. I agree. First, there's the Monica v Jenna feud, next you've got Monica aggressively coming on to Blakely and them canoodling on the chaise, and then there's Jenna going absolutely, completely BATSH*T BONKERS and crying nonstop for hours (cute dress, though – good beadwork). I just don't even know what to make of the season, especially when the Bachelor in question is Ben. He was such a non-presence in the first episode it easily could have been called 30 Totally Loony Women Dressed Like Skanks and Drinking Too Much in a Random House For No Reason At All. There's no way I can watch another second I'll see if I can stick it out for another week, but I'm not optimistic.
From left: Jenna, the spineless crier, and Monica, the unhinged pseudo-lesbian psychopath, both of whom made it thru the first rose ceremony. Houston, we have a problem.
For a more comprehensive recap, I – begrudgingly – direct you towards Betches Love This Site. They pretty much nailed it…but of course they did; it's right up their alley.
As for upcoming topical topics, people have been asking for some Facebook etiquette tips. Or not tips so much as what is absolutely NOT okay to share on the book of face. I tread lightly in this area as there is a very real chance I could offend an avid reader. I have an illness and it's called pleasing people. I think I need to get over that. Any tips? Kara?
Oh, I just finished a very good book: The Rules of Civility by Amor Towles. I reserved it at the library like 5 months ago, and it just came in – I couldn't even remember what it was about or why I wanted to read it, but it was excellent. It takes place in 1938 in New York City – actually, People Magazine can say it better than I can: "Put on some Billie Holiday, pour a dry martini and immerse yourself in the eventful life of Katey Kontent…[Towles] clearly knows the privileged world he's writing about, as well as the vivid, sometimes reckless characters who inhabit it." Recommend for females only, I think. A, go ahead and order it…for boys, READ THE HUNGER GAMES.
There is more than one relevant item on this list of 20 New Year's Resolutions for 20-Somethings. Even if you've already rounded out your list of NY Ressies, you should check these out. Even if you're not in your 20's or think you're better than resolutions, reading this is worth a minute of your time. Credit: Haley G.
6 Responses to "Post about how BBT is awesome and The Bachelor is not"