It's not easy doing this – being strung along by the promise of awesomeness and glory, the sweet taste of victory in attainable, if-we-just-make-this-play reach…you know where I'm going with this: such is the life of a Georgia sports fan. I don't know why the sports gods decided to screw so badly with our heads and hearts this year, but it was not fair. We rose up across the nation, and to no avail. It really sucks.
I pondered this at late nights on occasion in ATL, but now that I've moved up here and find myself walking and listening to music simultaneously I think about it a lot: what would my walk-out song be if I were a Braves player? What would blare over the loudspeakers to announce my presence as I sauntered/swaggered to home plate? Don't scoff, I'm serious. This week my choice is Kashmir by Led Zeppelin, specifically at the 2:00 mark. Next week it might be DMX or Nicki Manaj…but this week it's LZ.
Sister, yours would be "I'm a Loser Baby" by Beck.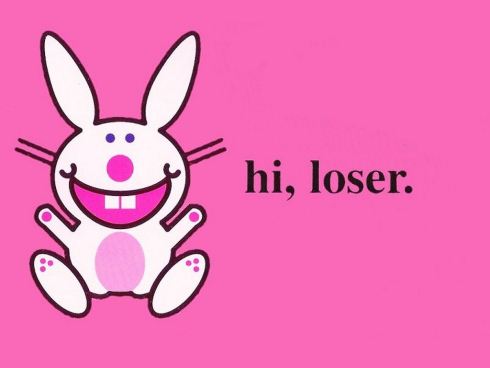 Thank you, Marla Hooch, for taking the time to share your thoughts on BBT today. You probably won't be invited back.
And now, for the weather. It is soul-crushingly cold in NYC this week.  I've heretofore never experienced this kind of chill, where you're in physical agony after two minutes outside, even when you're APPROPRIATELY dressed. Never was I ever appropriately dressed in Atlanta. Rain, cold, snow – I just suffered for the 10 second walk to my car and wore backless shirts year round whatever I pleased. Today I am wearing leg warmers seriously, without any irony. I purchased them at American Apparel for a dress-up engagement party (great idea, btw, highly recommend a costume-required engagement party), and I am wearing them today with boots. Y'ALL IT IS COLD. Normally I like to take a stroll during lunch, but this week all I've done is take a stroll to the lobby to meet my Seamless delivery dude. People aren't meant to live like this; I need a full-length mink. Buff, send me yours, I need it more than you do.
If I look pissed it's because I am. It was one degree this morning. ONE DEGREE. Hilary said it best: "That's not a temperature. A temperature is like 65. Or 85. 1 is like how many pizzas I'd like today. Not a temperature." Agreed. And now I'll be ordering pizza for lunch. UPDATE: I went with sushi.
In celeb news…There are few things I love more and am better at handling than being proven wrong. I definitely don't like to be right all the time, and I'm happy to accept another's assertion of truth over my own. I trust you all sensed my tone. However, sometimes facts are facts, and I just have to go with it – case in point: this photo of T Swizzle. I've called her boring, lame, and even Taylor "what's that? I just fell asleep" Swift, but she looked pretty smoke at The People's Choice Awards a couple of weeks ago…not bad, T Swizz, not bad at all.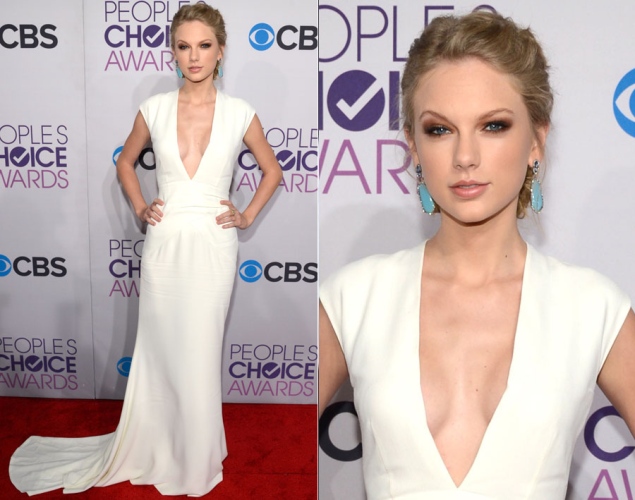 This doesn't mean I like you, but it might mean I recently purchased your newest single. Speaking of celebs! I saw Padma Lakshmi from Top Chef at Raoul's on Saturday night. She is stunning but would be even more so if she wiped that snarky smirk off her face – she did not look like someone I want to be friends with. I'm really killing it with my celeb sightings.
So, this happened: a couple of Saturdays ago, before the Apocalypse and you could go outside without 18 layers of clothing, I was sitting in Union Square enjoying a nice cup of hot cider from one of the vendors at the park's Farmers Market, reading my Kindle. I was early meeting people for brunch/lunch, so I sat for a sec, enjoying the mild temp and pleasantly quiet day. OR SO I THOUGHT.
"Hello, excuse me, hi." The man's voice startled me, and I sloshed my cider. Annoyed, I was all set to pull my usual avoid-and-ignore move, but I decided to do things differently – I was just a girl, sitting in the park, drinking some hot cider, why couldn't I have a normal conversation with him.

"Yes, hi," I responded with a half-smile. A HALF-SMILE!

"Do you mind if I sit down?" Before I could answer, he sat down right next to me – right next to me when I was surrounded by empty benches. My half-smile began to waiver.

"So, what's your name?" he asked eagerly as he leaned towards me, effectively violating any and all social mandates re: personal space.

"My name is Allie…" I said while I adjusted my position, trying to communicate that he was about six inches closer than what was already too close.

"OH I KNEW IT! I knew your name would be something like Allie!!" What does that even mean? "My name is Alex. But I bet you could have guessed that. Alex and Allie!"

"Yeah, I don't know that I could have…"

"But who knows? Right? That's why I just love this f*ckin city. So, Allie, I think we should hang out sometime…" At this point, I started gathering my things – I really did try and be friendly because hey, why not, but he was putting out a weird-and-getting-weirder vibe and he also looked like Voldemort's rat-like sidekick. I'd had enough.

He began to protest: "Wait, you're not leaving! You didn't even get to hear what I was going to say! I was going to say I wanted to hang out with you and your FRIENDS. Not just YOU! I bet you've got cute friends. You can set me up!"

This was too much. "You want to hang out with my friends? You're using me to get to my friends? Whom you've never met? And you want me to make the introduction?" I know I sounded a little incredulous, but this guy was the worst. Plus he was wearing some kind of unpleasantly odorous cologne that was 100% AXE Body Spray, or possibly its generic version. No gracias.

"Sure, why not. Maybe they are nicer than you. Maybe THEY would want to hang out sometime."
I sensed Alex's teasing/pouting act was a quick stop on the way to TemperTown, so I bade him farewell and got to to brunch/lunch 20 mins early. I thought I did okay for a first attempt at random conversation with someone whom I initially had wanted to run away from. Another one of my non-resolutions is to, eventually, retire my Flat-Face as it pertains to meeting members of the opposite sex. This will be my Everest.
Did you notice how this kind of read like a newscast? Sports, weather, celeb stuff, wrapping up with a human interest story…  #notmybestwork