Posted by AllieB on May 30, 2013
I am well aware it was but a few weeks ago that I was ranting and raving about the endless NYC winters, but I really don't care about how flaky and/or melodramatic I seem because I just don't.  Today, after a Memorial Day weekend where the high topped out at 48 degrees Fahrenheit on Saturday, it is 92 degrees and the air feels like hot, stinky breath. I am seriously, legitimately concerned about how I am going to survive the next few months. I joked last week about getting bob haircut – as if! – but today I'm thinking a full-on Ellen DeGeneres whack job. I'm not kidding. And my hair is the least of my worries. Do they have full body deodorant? I'm talking Secret Prescription Strength for head-to-toe. The good news is that my office temp is a comfy 58 degrees, so I have to wear sweaters and scarves inside then basically disrobe to go outdoors. Winter's easy:  you just put on more clothes. The wet, hot, American summer of NYC is a new animal with which I've yet to grapple, and I'm already thinking about ceding victory…for I am screwed. BOLO for 3 straight months of red-face/dancefloor Allie.
This week I present to you a very special segment: How to Stay Slim & Trim. I have two things that are really going to rock your world – perfect timing for 'kini season!!
1. PRANCERCISE! What is prancercise, you ask? Prancercise is defined as follows: A springy, rhythmic way of moving forward, similar to a horse's gait and is ideally induced by elation." But why use words when there is video:
I had a hard time getting past that camel toe, but I powered thru and am already planning to go prancering after work. I'll fit right in doing this around the Central Park Reservoir. Don't need sound for that video, and you don't need to watch more than 20 seconds. Thank you, Sista Wedge.
2. Aw, crap.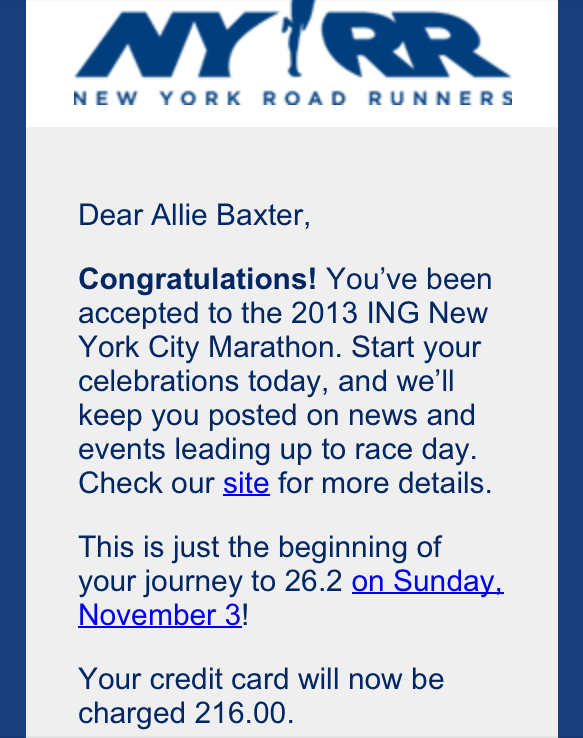 The gods have spoken. If I'm going to talk so big about running a marathon, it seems I might actually have to do it. I bailed on the LA race in March, and when I signed up for the NYC race on a whim I assumed there was no way my name would be chosen from the lottery – I worked it out: I had an 8% chance of getting it. Given my history of never getting chosen for anything, I felt pretty confident about my odds…until that email showed up earlier today. Just this morning, during my morning yog, I thought to myself, "I sure am glad I didn't get chosen to run that marathon in November." But it's local, it's important to participate in light of the Boston Marathon tragedy, and it's something I always said I'd do. Plus I've got like, what, 5 months to train? Totes doable – I've already got my Body Glide and everything. I don't think I can prance my way through this one, guys.
And now for the really, really random stuff:
-Ron Swanson is one of the greatest TV characters of all time – that is a statement of fact, not opinion. His awesomeness is elevated in this slideshow depicting his feasts throughout the 5 seasons of Parks and Recreation as well as his commentary.

-My birthday party is happening. I haven't sent out the invite yet, but here's a preview…!

ATTN anyone tempted to refer to my upcoming birthday as "Dirty Thirty" – you are preemptively dead to me.

-Ya know how I went to the Stones Fest last Thursday to see my friend Parker play? Well…it was awesome. Jason Isbell, Norah Jones, Boz Scaggs, Regina Spektor also played… I will never, ever forget the ensemble performance of Shine a Light (my most very favorite song) as long as I live….read about it here – this guy knows a whole lot more about it than I do.

Remember that really funny spider email from 2008? I had totally forgotten about it until I rediscovered it last night. LOL
I threw this together in like 15 minutes but I'm on a great streak here of not missing a week, and I gotta keep up the good work.
TGIT! Eat, drink, and be merry. I'll see you next week – same time, same place – unless I melted, in which case…who knows.
13 Responses to "Hello, 911? I'm on fire"