To preface: this week is an atypical week. I am wrapping up my job and concurrently transitioning to my new one; this is a very exciting change, I feel like I'm practically a grown-up…..anyway, be advised – BBT might suffer as a result – not forever, just for the next few days.
I'll tell you who else is suffering: me, looking at Misha Barton.
(people.com by way of CCH)
Fail, indeed. Although I do approve of her reading material – Bill Bryson is a very hilarious author. Start with I'm a Stranger Here Myself – it's a compilation of articles he wrote about various idiosyncrasies that make America so awesome. For instance, the number of people who die every year in mattress related deaths, or the wonder that is the grocery store. Whatever, he's funny – BBT highly recommends. I bet Mischa is just carrying it around for show – it's upside down for pete's sake.
The new Bachelorette started last night. Pass.
Oprah's last show is Wednesday. I thought that already happened?
Beyonce did her crazy, legs-flail-about-as-though-independent-from-her-body dance moves at the Billboard Awards Sunday. Seriously – how. B Spears also performed, to some decidedly lackluster reviews…but at least she looked good.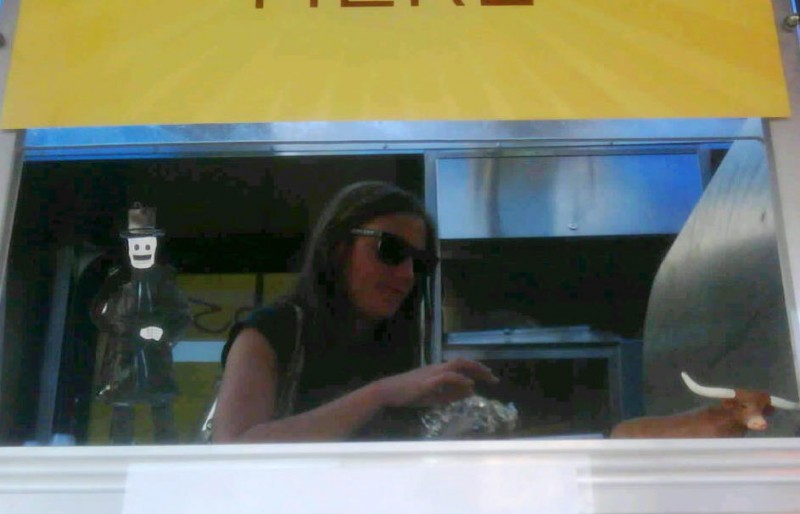 Here is Tex's Tacos schedule for the week. I heart Tex's Tacos. This is me having the all new carne asada taco – they upped the ante on the carne and it's the heat. I hadn't noticed the muy auténtico decor they have in the truck…looks good, boys.
Are you watching Parks and Recreation yet???