As seems to be the case with all my surveys, the results of my poll on Tuesday were unremarkable. Turns out there are stupid questions (well, we already knew that (this is one of my favorite posts)), and apparently I keep asking them.
1. I read BBT because…
22.7% – it has relevant or interesting information
43.5% – it is funny
7.4% – it is fun to make fun of Allie
22.7% – I like to be distracted during the work day
2.6% – Allie pesters me about reading it
1.3% – I might stop reading if she asks me anymore stupid questions
Ok? I don't know what I expected to glean from that question, but I'm glad to know that less than half of you read this because you think it's funny.
2. What would you like to see more of on BBT?
17.7% – boy/girl surveys
14.6% – Atlanta restaurants/deals
19.6% – personal anecdotes
12.3% – celeb stuff
17.3% – goings-on around Atlanta
18.6% – new sites that I should check out
So, basically…this data helps me not at all. I should have made it so you could only choose one answer, and I also should have allowed it to show how many people took it. Fail on both counts. I will try to focus more on personal anecdotes, less on celeb stuff, and stay about the same with the other stuff.
3. I am a boy/girl:
I honestly do believe that more than 30% of my readers are male, but I also believe that they are less inclined to participate in my boneheaded polls. So…fair enough.
I have two sites of interest to share with you today – the perk is that both of these require about 2 seconds of your time to appreciate:
The first is a simple photo blog that makes me laugh outloud. Walk. Too Big For Stroller

The second is a mind-blowing fact blog about Apple and the rest of the world: Things Apple Is Worth More Than (spoiler alert: all of the illegal drugs in the world…)
My friends and I adopted a family for our third year in a row this Christmas, and I think this year was our best yet. I must say – and this is not because no one offered but because Christmas is a crazy time of year – I did do all of the shopping by myself, and I did a pretty awesome job. It's for a family of three: a single father and two sons, and the gifts are exactly what they asked for. I'm proud of us for participating for three years straight. Between Lindsay's magazine-worthy holiday decor and the cheer of wrapping gifts for this family (and the Stouffer's mac n cheese), last night got me more in the Christmas spirit than anything else yet this year. 'Tis the season!
New sites to check out? BOOM. Personal anecdote? Nailed it.
Ok – this may or may not be real. It is a "petite retriever" and I can't tell what kind of hybrid it is, but his name is Rigoletto and he is a PERMANENT PUPPY. He tops out at 20 lbs. I must have him.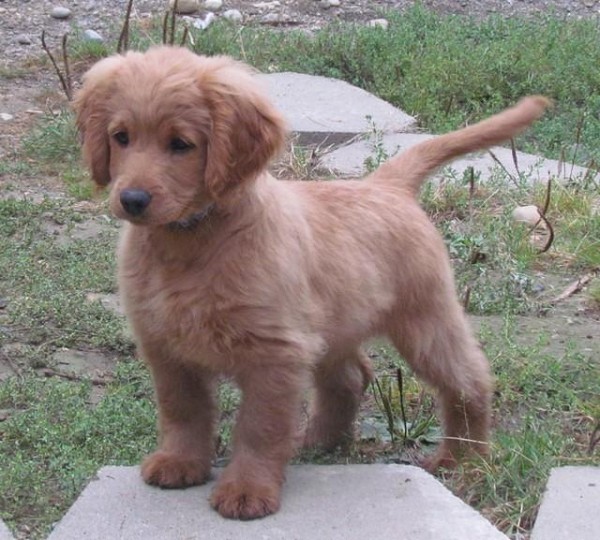 More pics of Rigo and other hybrids here.