Posted by AllieB on May 25, 2011
Elizabeth Shue, Christina Applegate and I have had some crazy times in child tending.
I should preface by saying: I don't necessarily love to babysit. I like kids – I love kids! – but I like them better when I'm not in charge. I'll tell you, it's this hard-to-get mentality that makes them so fond of me…they can sense my disinterest, thus I'm the immediate go-to for games/fort building/freeze tag, etc. Maybe this hard-to-get thing isn't a myth…??
I digress. The reason I bring this is up is that I've been chatting with my sister and Lacy and Skin and others recently about the pros and cons of taking care of other people's children, and a certain story came to mind…
I had a weekly babysitting job every Tuesday. There was a Mom and a Dad and two trouble-making boys. Seriously, HUGE troublemakers….every week, the rents would go to Bible study and I'd watch over Christopher and Patrick and the basically dead cat, Maggie (this cat would occasionally let out a wail akin to Michael Finnegan's last breath – terrifying).

One evening, about 6 weeks into the gig, a grandmother appeared from behind a door that I had never noticed, much less opened. Oh yes, it was their Nonnie. Nonnie had been LIVING IN THE BASEMENT for "years and years," and no one ever told me about it. I mean I'm here like 3.5 hrs every week, and no one thought to mention the elderly person living downstairs. What if there was an emergency? What if she fell down and couldn't get up? These are legit scenarios that I ought to be prepared for…

She did seem very nice and wasn't at all offended by the legitimate scream with which I greeted her upon entering the living room where I was innocently watching my second favorite CW show at the time, Privileged. (That Joanna Garcia just can't get a break, can she – she may have peaked with Reba.) She apologized for disturbing me, got herself a glass of water, and retreated downstairs…I was quite shocked – it just would've been nice to know about her existence, is all.

The parents got home and were very apologetic, but totally in the wrong way: "We're SO SORRY, did she bother you?? We told her to STAY DOWNSTAIRS." I'm a little scared that Nonnie was punished for daring to venture beyond her…prison? I don't know. People are weird – this is why I prefer pet-sitting to people-sitting…dogs might be crazy, but it's usually in a very endearing way…case in point: Missy Baxter. (credit: Family BBM Chat)
So, that happened…
My girl crush on Kate is more out of control than ever: how fetchingly glorious does she look at this meet & greet with President and First Lady Obama?! I guess spending 10 days in the Seychelles does wonders for one's tan/hair/overall amazingness.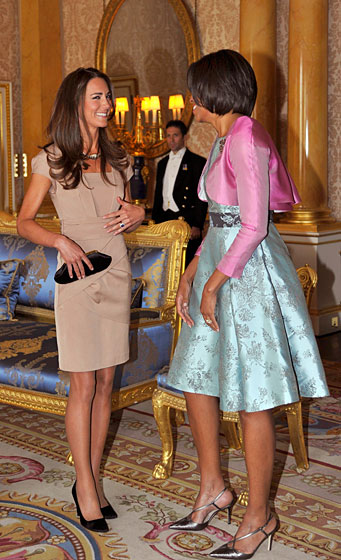 Source: NYMag
Dani – this is why I prefer to keep my posts short…but I did it for you :)
7 Responses to "FREE NONNIE"