Herro. I started this post in the middle and then wrote the ending and then this part, so you might be like, "BBT, wtf are you talking about." Try and keep up.
Much to my GREAT excitement, the Opening Ceremonies of the XXX Olympiad are in less than two months!!! This also means, obviously, less than two months til two whole weeks of bird dogging Kate Middleton's wardrobe choices. I fear the Duchess is getting a bit thin, however…I do hope she's keeping the myriad pressures of Royal Life at bay and not transferring them to an eating disorder. Too skinny = bony = weathered. No one likes a weathered princess.
Never will I ever criticize B Spears – nothing she can do will ever undo her MTV Video Music Award performance in 2000 – but the list of items she requested for her dressing room on the X-Factor is just…typical. I wonder what kind of chicken? KFC? Popeye's?
*34 Herve Leger dresses
*12 Snickers bars
*10 snack-size bags of Doritos
*six cases of Diet Coke containing 24 cans, which must be replenished every week
*12 vases of magnolia blossoms in her dressing room
*10 pieces of chicken
*four pints of potato salad every week.
*beauty team which includes a personal manicurist, a facialist and a massage therapist
My list would read as follows:
*Olivia Palermo's wardrobe
*My e-reader (hopefully if I have my own dressing room I will have upgraded from my Nook, version Archaic)
*One bag of cheetos from which I can have a few each day; this will be strictly monitored by my stand-in willpower, which I will need provided by way of large, scary woman. See qualifications below
*large, scary woman to stand in as my willpower. Responsibilities will include: monitoring cheeto intake, forcibly removing me from sofa to exercise…I still don't understand why Jessica Simpson hasn't hired one of these yet.
*one orchid/table surface
*pizza. Pizza from Tartufo, Fellini's, Antico, and Mellow Mush…the pizzas are to be delivered hot, fresh, and in random order – keep me guessing!
*three Labrador puppies for 20 minutes each day, with one always on-call
*beauty team which includes a personal manicurist, a facialist and a massage therapist
So, this went viral: a letter regarding uncouth behavior at the local Piedmont Driving Club. I'm going to refrain from comment, but here are some high(low?)lights:
one member decided to play the 14th hole completely naked. I have not researched it, but I suspect this is a crime in Georgia
one member decided to show off to other members, and a caddie, his ability to pick up a golf ball with his naked butt cheeks.
Moving along…Domestic Allie made a rare appearance the other weekend. I guess Tina just brings out the best in me…she and Kirk whipped up a pretty awesome meal of kabobs at their new house, and everyone had a great time. I helped skew the skewers for a little while, but mostly I was in charge of watching feeding Tina wine. Kabobs are a messy business; someone's gotta keep the chef hydrated.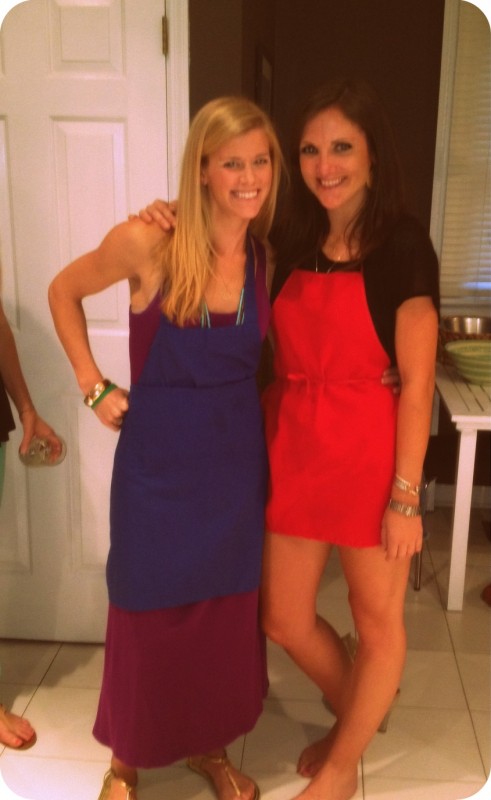 This is us in our aprons. I've opted for the 1960's photo finish in Picasa because aprons are sooo 1960's.
I've always considered myself to be fairly well educated, and I am a proud alumna of The University of Georgia, but I'm feeling a bit slighted re: course selection…my Art History class on Theosophy (I don't even know what that word means anymore) is way less relevant than these options. (Source: Reader's Digest, June 2012. I know.)
How To Watch Television – Montclair State. I mean, I could teach that class, amiright??
Harry Potter: Finding Your Patronus – Oregon State. BBT says: legit.
Alien Sex – University of Rochester. Um, no.
I try to read this blog once a week because it is so funny.
THE FIRST TIME I LIVED ON MY OWN
This isn't not not true.
TGIT! Today is the last day of May, so tomorrow is the first day of June.