So far as I can tell, everyone I know has been going on vacation. And not even wedding-related vacations, but actual, legitimate holidays. I do not prefer this. If one more person checks in at Have You Ever Seen Water More Blue Resort or How Delicious Do These Frozen, Fruity Beverages Look Cay, I'm going to quit Facebook. Obviously, I'm not quitting Facebook, but I really am over it. WHERE IS MY VACATION. Mom, don't answer that. For now I'll have to settle for being the host with the most of a raging pity party – check your email for registry info.
To console myself I shall revist my own trips of yore: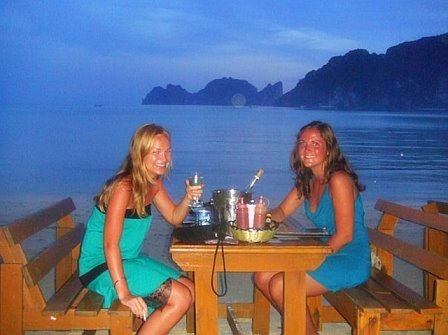 This time in 2k6 BBT was visiting Phi Phi Island, Thailand. I wonder what that girl's name is with whom I'm drinking the vino..? I know she was from Dublin. Regardless, this really isn't helping – nor did your email about Australia, Talbott, so thank you for that. (The part about the hole in the ground facilities did a little bit, however.)
I can't make myself sit thru entire episodes of The Bachelorette, especially when they feature snoozefests like Emily Maynard (she's pretty, there's no denying that, but she, much like Taylor Swift, just make me want to take a nap), so I direct you to Melissa F's blog/recap about last night's premiere on Fonty Fest. I very much enjoyed reading it even though I really had no context for her commentary. This is great because now I will never feel the need actually watch it. Thank you, Melissa!
Speaking of vacations, for those of you taking trips in the near future, bite me check out these books: for those who enjoy lighter stories geared towards a more feminine audience, I recommend The Opposite of Me by Sarah Pekkanen. It's chick-lit for sure, but it's well-written and engaging…I laughed, I cried, etc etc. (Speaking of chick-lit, Elin has a new book coming out this summer..!) For both genders, I recommend this much darker, sordid, absolutely enthralling mystery: Defending Jacob by William Landay. Suffice it to say, it is not your average best-seller mystery, and once I got into it I couldn't put it down. I'm still reeling from the ending.
Lastly, I've decided that I can let go of my Kate Middleton obsession, because I think I might just do the whole princess thing on my own. While always cute in an endearing-ginger kind of way, these recent pics of Prince Harry pretty much solidified his swoon-worthy status…kissing babies: check; kissing puppies: check. Notably not present: his Nazi costume (which I hope he's retired permanently…) Oh, plus he's playing polo. Helllooooo, Prince Harry.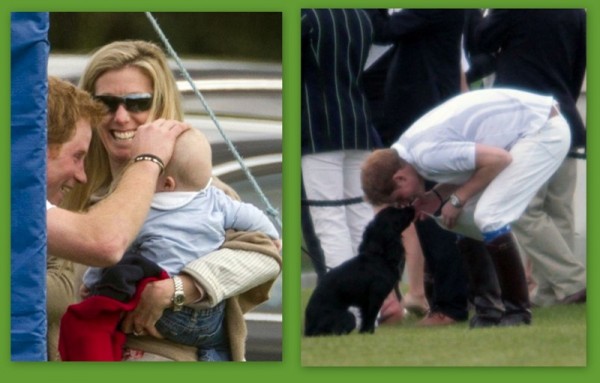 You come here to me. I promise I'll never say "swoon-worthy" again.
By the way, I recently learned what I'd do for a Klondike Bar: change out of comfy cozy pajamas into somewhat presentable garb, put on SHOES, descend several flights of stairs, and walk a block down Peachtree in icky drizzle at a late-night hour to the glowing mecca that is my local Walgreen's. Oh, and pay for it in change. For the record: it wasn't worth it.