Hello. Today I will solve a mystery so mysterious it makes the Bermuda Triangle look like an above-ground backyard pool in Ohio where the Loch Ness Monster and Big Foot hang out, grill steaks, and play touch football with their kids, Loch Ness and Big Foot, Jrs.
It's a total game changer: here's how to see time stamps on your iMessages. Credit: JVBJordan…eh, so I guess it's her we should call Nancy Drew. Fine.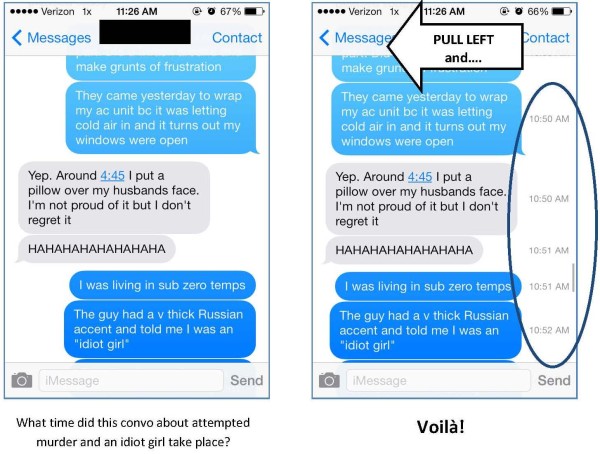 I had to black out the sender's name, obvi, given the mention of pre-meditated murder and a clearly stated lack of remorse; BBT is no snitch. If this is not brand new information then up yours for not telling me sooner. I mean, it didn't even occur to me to goog it, that's how futile the situation seemed. This might be the best brand new information I've received since I learned about Let Me Google That For You - I love LMGTFY.
While we're talking game changers, I have a couple requests for the big guys:
Dear Mr. Snapchat,

Will you please figure out a way for me to send my screenshots via Snap? Super.

P.S. What 23 year-old says "pass" to $3 billion?! Pretty ballsy…

P.P.S. Might you consider dating a slightly older woman?

Dear Apple (cc: Emoji),

Could someone please find out how to assign unique keyboards to specific contacts? Or, at the very least, put the hashtag thingy on the main typing screen? Yes.
I think that's it; I'm not unreasonable.
Another helpful tip I generously share with you today: do you find that your ear buds fall out during exercise? I do. I'm not sure what's wrong with me – the right ear bud barely stays in while I'm just walking. I have those hook-over-the-ear headphones but they look stupid. SOLUTION! Credit: CKBMaines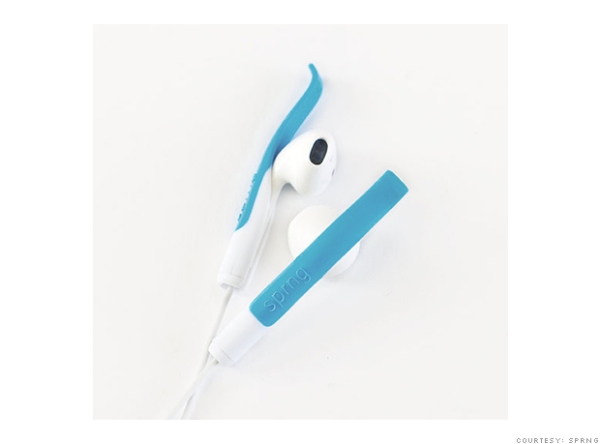 Meet Sprng, the $10 plastic clips that will greatly improve your quality of life – they just snap right onto your ear buds and fit neatly into the groove of your ear (ew). They slide in easily, stay put, and are much more comfortable than the ones that hook – you don't even notice they're there, you just notice that you're not having to shove your right bud in every 20 seconds. I've run with them twice this week, and I'm very impressed. Also, I opted for a subtle light grey color that blends right in – ya can't even see them. BBT highly recommends.
Sooo…how's it going, ATL? The pictures I've seen online from Tuesday & Wednesday are insane, and I still can't quite comprehend the gravity of the situation on the roads. It sucks that it was handled poorly on so many fronts, but – and more importantly, I think – my overall takeaway is this: I am in awe of the innate goodness of the peeps Atlanta. I read so many stories on the SnowedOut Atlanta page that gave me the warm and fuzzies – it was pretty great. (Unfortunately there are also haters posting on that page, but haters are always going to hate.) They'll be embarrassed I shared this, but on Tuesday night my mom saw a post on FB about woman stranded near our house, and my dad went to pick her up and wound up with a second woman as well. The two of them stayed the night at our house and finally were able to start their trek home yesterday afternoon. I know my parents' gesture was just one of thousands made throughout the city. There's going to be a lot of political conversations and pointing of fingers and I imagine it's going to get pretty ugly – it already has – but, as is the BBT way, I like to find the silver lining. It's amazing how the worst times can truly bring out the best in people.
I'd also like to give a shout-out to Zirk3 and her harrowing commute home Tuesday day -> evening -> night…you're very brave, and I commend you for finding the silver lining via Insta posts (I also commend you for having a car charger). It takes a special breed of person to keep their sense of humor in the face of such hardship. Next time we meet, the goldschlager's on me.
Not to take away from what's going on down there, but we're cold, too…..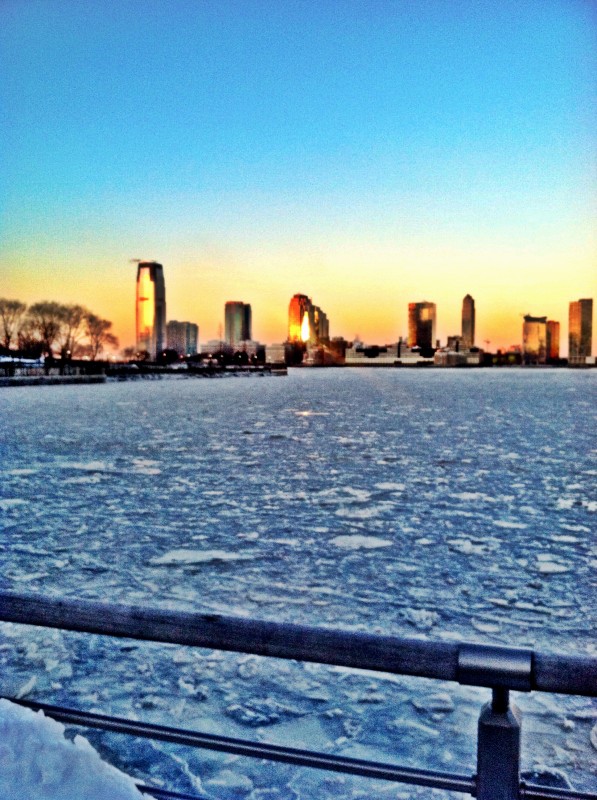 The Hudson was frozen halfway to Jersey last Friday. Thass bunk.
Here's fun activity: take this 100% Â entirely accurate quiz that will determine your mental age in 6 short and easy multiple choice questions.
Your mental age is
19
Well, that settles it: I most definitely belong with a 23 year old! I'm going to make a wonderful Mrs. Allie Snapchat.
If you haven't already, watch this. Even if you have, watch it again – I'm in double digits. Hint: there are puppies. Puppies and Clydesdales and Budweiser.
TGIT and Happy Super Bowl Weekend! Go Peyton!! Go Sherman!! If you live in NYC, don't even think about going near Times Square, but do read this article What Super Bowl Week Is All About by my man Jason Gay at the WSJ. And, believe it or not…it hardly seems possible…tomorrow is the last day of January. VICTORY!