Good afternoon. This weather sucks.
BUT! Treehouse has deigned to join the rest of the free world in the Groupon et al craze, and for only $8 you can get $20 worth of food and/or booze without any restrictions! Click here for the deal; it's only available until midnight.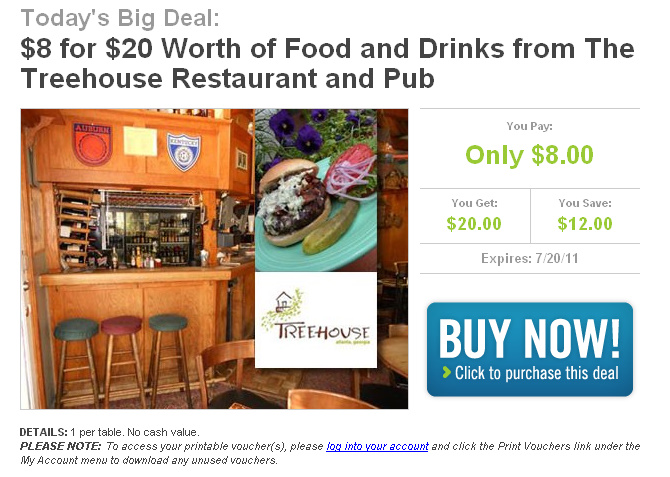 Thanks for throwing us a bone, Treehouse. Don't get me wrong, it's not like I've stopped going in protest against their refusal to offer happy hour specials or Recession-friendly deals, but really – it's about time. Maybe I should buy a few more…
I've grown tired of picking on Boobs Legsly, and Jessica Simpson seems to finally be heeding my advice by going out in public less, so I've been forced to find a new target for my celebrity ridicule. Taylor Swift…COME ON DOWN! Newsflash: your relationship with Jake Gyllenhaal was total baloney. Write your little ditty about picking apples in New York and sharing pumpkin spice lattes or whatever you need to do to mourn the loss of your fake – not to mention gay – boyfriend, get your platinum records and Grammy's and make your millions, but for the LOVE OF GOD leave US Weekly out of it.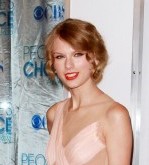 What the crap – how are you so boring. Just looking at you makes me want to take a nap. The only thing that could make you more boring would be doing something like not serving alcohol at your 21st birthday and having platters of cookies instead. Oh, wait…..
Girl Talk is tomorrow at the Tabernacle! If you don't have tickets you're probably S.O.L. unless you want to fork over $100…fortunately, I do not fall into that category, thanks to Leila, and have been accumulating glow sticks for weeks. I've also been preparing for my transition to Dance-Floor Allie by way of nightly stretching and some solo head banging – it's like I'm the White Swan morphing into the Black…..except not because that would freak everyone out. DANCE PARTY!!!