Forget my lame suggestion of ties yesterday, if you're willing to fork over $750, THIS is what you should buy the guy in your life: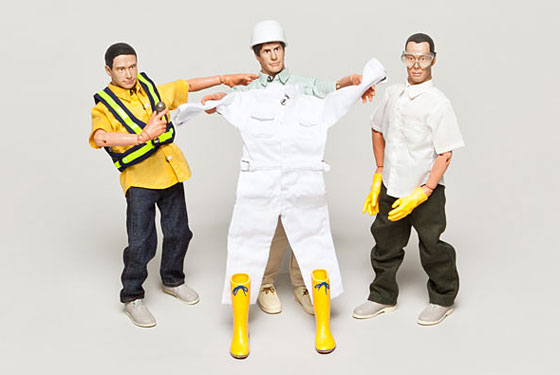 It's The BEASTIE BOYS! Per NYMag: Packaged in a handsome metal box are three eleven-inch dolls — fully poseable! — each with their own stands, white jumpsuits, goggles, work boots, and safety vests. (Who knew these rebels were OSHA compliant?) Tossed in for good measure is the two-disc deluxe version of their Sounds of Science. Yes, at $750 it's a bit pricey for a meta-gift, but proceeds from all sales are split between two charities that benefit kids with cancer.
Fully poseable?! Who could pass. You're welcome.
For this week's Confounding Conundrum, I share with you the pictorial comparison below. Shown are two women: both are approximately 5'2″ and share the same thick trunk/shoulder/no-neck body type; both are five months pregnant.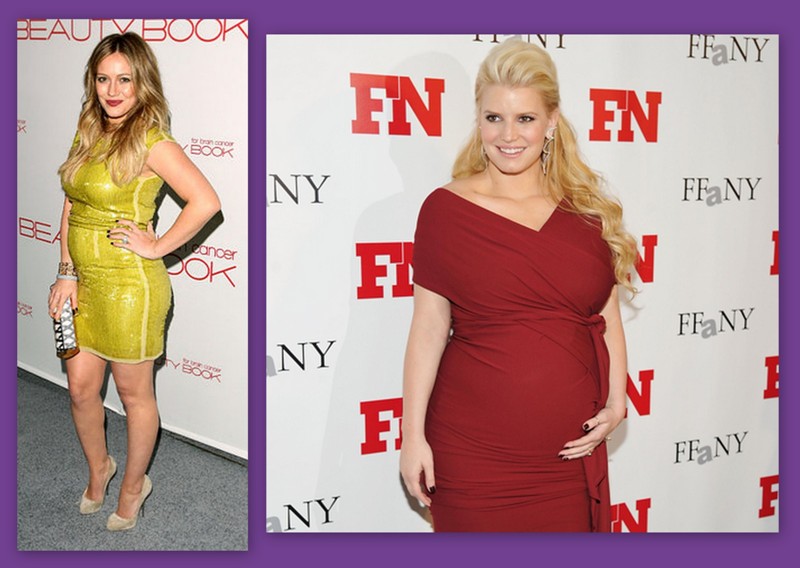 And I guess the similarities end there, because evidently Hillary Duff is giving birth to a newborn human, whereas Jessica Simpson is giving birth to Shaq. I do wish that Hillary had on tights or a longer skirt, but for the most she looks pretty great. And it's not that Jessica looks bad, per se, it's that she still has FOUR MONTHS TO GO. This begs the question – what on earth is she growing in there?
I am reminded of the classic film, Men in Black. Rookie agent, Will Smith, is new on the job and is innocently helping a woman he believes to be human deliver her child. Everything is going as well as it could be, when BOOM!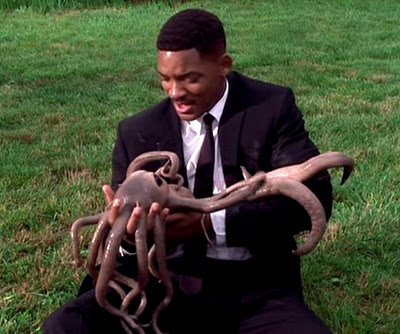 Squid baby.
All I'm saying is: if I were Eric What's-His-Face, I'd stick out the delivery in the waiting room, just to be safe.
Happy Birthday to BOBBY! BBT hearts you. XX
Take it easy and just be breezy. Yours in ridicule,
Baxter Bark Twice
LEST I FORGET: My friend Helen's biz, H&H Home, will be featured as part of One Kings Lane's signature Tastemaker Tag Sale series:  One Kings Lane will be offering our vintage and one-of-a-kind items at up to 50% off retail, starting TONIGHT, December 1st at 6:00 PM PST / 9 PM EST. Our Collection includes a curated assortment of newly finished, never-before-seen items hand-selected by H&H Home. To learn more, and preview the collection, visit www.handhhome.com. To join One Kings Lane and shop OUR sale, go to https://www.onekingslane.com/sales/12418 
ALSO: Scout for the Home is open til 8 tonight and will be serving wine. Scout is a great place to buy smaller items for the home/gifts…think mothers, sisters, friends and the like.