Dear Diary,
Today has been the best day, and it's not even lunch time yet! First, I woke up at 5 AM feeling super fresh – everyone should go to bed at 8 PM like I do; I LOVE being a morning person!!! Anyway, then I fed the fish in my koi pond that I have in the middle of my penthouse apartment in Nashville. Why do I have a koi pond? I don't know. But there are fish in it, so I feed them. Then I went on a long walk – I have such awkwardly long limbs that I can cover five miles in about five minutes. In fact, I kind of remind myself of the BFG – remember Roald Dahl's classic? I never read it because I'm much too vapid to enjoy such a wonderful, imaginative novel, but there was a really cool girl in my third grade class – her name was…I don't know, it rhymed with Ballie Axter- and she loved it.
I digress. My great day has continued with my usual 3 hours of baking. I love to bake! I'm one of those miserably lame people who constantly distribute baked goods so as to endear myself to others. Every time I manage to get people to come over, I have a huge spread of baked goods and hope that they will come back maybe for a second visit when they remember how much food I had for them. Today I whipped up some pumpkin pancakes in case anyone came over – they didn't, but I felt good knowing that I was prepared. I wonder if maybe I should start serving alcohol? I didn't have any at my 21st birthday party, and I'm wondering – looking back – if that was a mistake?? Surely not.
Oh! There's my timer. I just made some souffles. I really hope I can find someone to enjoy them with instead of giving them to Jerry again – Jerry's the homeless guy who lives on my block. He said the last ones gave him indigestion?? There must be something wrong with his digestive track, not my souffle – I followed the recipe exactly. I always follow the recipe exactly. And I am definitely the only person I know who would ever say "digestive track."
Anyway, Diary, I just know today is going to be great. It will probably be exactly like every day I have because I am that redundantly redundant. I am even redundant when I am saying word redundant, which is something of a feat.
XOXO,
TSwizzle
*I know, right?? How surprisingly hip is my moniker?? It hasn't caught on yet because I'm about an iota as cool as the name suggests, but maybe one day….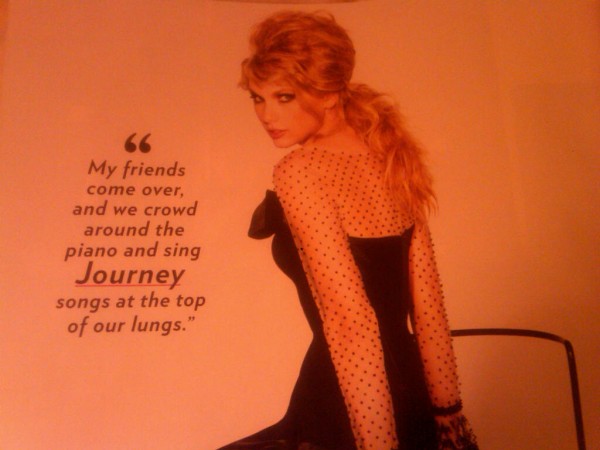 By "friends" I mean people who accidentally went to the wrong condo. (Glamour – November 2010)
Title credit: La Boof